Adders - Circular Adders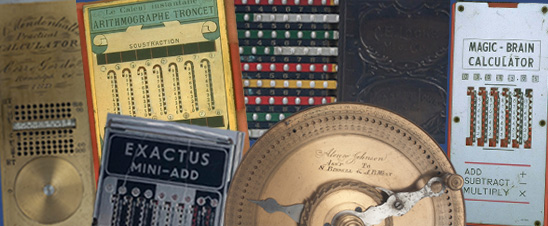 On some adders, numbers were represented along an arc of a circle. People used their fingers or a stylus to enter numbers. On a few of these instruments, a mechanism allowed one to carry a single digit. These objects are described here as adders with carry. They blur the line between adders and adding machines.
"Adders - Circular Adders" showing 1 items.
Description

This patent model for an adder with mechanical carry has a wooden handle and circular base on which three concentric brass discs and a brass arm are mounted. The largest disc is glued to the base, and has the numbers from 1 to 99 indicated around the edge (there also is a blank space for zero). The middle and upper discs rotate about a central pivot, which has a smaller pin attached to it that holds the discs together. The middle disc is divided into 100 parts around the edge, with the parts numbered from 100 to 9,900 (again there is a blank division). The top disc has the numbers from 1 to 99 around the edge, as well as a blank. Next to each digit of the disc there is a small sunken tooth in the disc. A hole in the arm allows one to see numbers on the discs.

To use the instrument, one sets up thousands by rotating the middle disc. To add 1- or 2-digit numbers, one moves the arm counterclockwise so that it is over the desired number on the outer rim. Then, rotating clockwise back to zero, a spring-ratchet attached to the arm engages a tooth on the inner disc and rotates it through the number set up. (The spring-ratchet is missing from the model). According to the patent description, when the inner disc goes a full revolution, a carry mechanism advances the middle wheel one unit.

See U.S. Patent No. 11,726, issued September 26, 1854. There is an example of the instrument in the Home and Community Life collections. It's catalog number is 1978.939.07.

"Aron" L. Hatfield (about 1818-1898) is listed in the 1850 US Census as living in Lewisburg, Union County, Pennsylvania. Born in Pennsylvania, he was 31 years old, had a wife and two children, and worked as a watchmaker. The 1860 Census lists an Aaron L. Hatfield, 40 years old, born in Pennsylvania and living in Green Springs, Sandusky, Ohio. He worked as an ambrotypist. No family is listed. The 1880 Census lists an Aaron L. Hatfield, 61 years old, widowed, and a watchmaker, who was living in Constantine, St. Joseph County, Michigan.

In addition to the patent for which this object is the model, Aaron L. Hatfield took out three other U.S. patents. The first, #103,327, was for an improvement in pruning shears, and was taken out May 24, 1870, when he was living in Clyde, Ohio. The second, #143,759, was for an improvement in pumps, and was taken out October 21, 1873, when he was still in Clyde. The third, #199705, was for an improvement in bag holders, and was taken out when he was living in Constantine.

According to an obituary in The Jeweler's Circular and Horological Review, Hatfield died December 9, 1898, in Three Rivers, Michigan, where he was working as a jeweler and music dealer. By then he was living a secluded life above his store.

Reference: In addition to U.S. Census and U.S. Patent Office records, see "Death of Aaron L. Hatfield," The Jewelers Circular and Horological Review, vol. 37, December 14, 1898, p. 15.

Location

Currently not on view

date made

1854

patentee

Hatfield, Aaron L.

maker

Hatfield, Aaron L.

ID Number

MA*252684

catalog number

252684

accession number

49064

Data Source

National Museum of American History, Kenneth E. Behring Center