---
Arithmetic Teaching Apparatus
Tests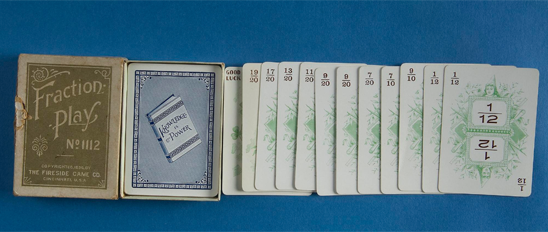 Throughout most of the nineteenth century, teachers tested the progress of students with oral examinations, often held at the blackboard. By the end of the century, more formal written examinations were used in some states to test graduates of academies in high schools and to accredit teachers. A few universities began to offer advanced degrees in education, and faculty there reflected on the history of mathematics education in this country.
At the same time, as the number of students attending school expanded, as high schools began to offer vocational training, and as manufacturing became more efficient, several authors worried about maximizing the efficiency of schools. A variety of standardized examinations were introduced to predict the performance of students, to point up areas where they needed work, and to evaluate school systems.
"Arithmetic Teaching Apparatus - Tests" showing 1 items.
Description

Just before World War I, Stuart A. Courtis, a teacher at a private school for girls in Detroit, Michigan, developed the first widely available standardized tests of arithmetic. His goal was to measure the efficiency of entire schools, not the intellectual ability of a few students.

Courtis went on to become supervisor of educational research in the Detroit public schools. There he developed a set of lesson cards in arithmetic for students in the third through eighth grades. The tests were originally published under his name by World Book Company.

This is a teacher's manual for a later edition of the drill cards. Courtis's name does not appear. Courtis withdrew his arithmetic tests from the market in 1938 because he had come to doubt their validity.

The manual was the property of Brooklyn school teacher L. Leland Locke.

Reference:

Kidwell, P.A., A. Ackerberg-Hastings and D. L. Roberts, Tools of American Mathematics Teaching, Baltimore: Johns Hopkins University Press, 2008, pp. 43–46.

Location

Currently not on view

date made

1924

maker

Detroit Public Schools

ID Number

2011.3051.01

nonaccession number

2011.3051

catalog number

2011.3051.01

Data Source

National Museum of American History, Kenneth E. Behring Center
---