---
Recombinant DNA and the Birth of Biotech
Recombinant Drugs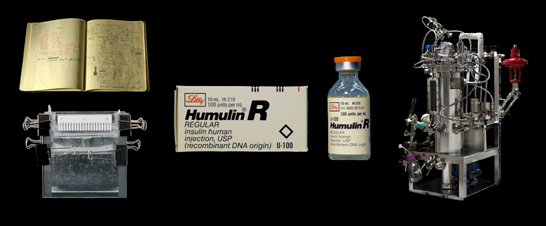 After figuring out how to grow recombinant bacteria on an industrial scale and how to harvest the insulin they produce, it was time to bring the recombinant insulin to the market. In 1982 Food and Drug Administration approved Humulin, Eli Lily's recombinant insulin made from Genentech's specially modified bacteria. It was the first drug produced through recombinant DNA technology and among the first genetically engineered products to be available to consumers.
Following the success of Humulin, recombinant DNA technology was quickly adopted to replace older methods of producing medical products from human growth hormone to vaccines. Although scientists have since developed new biotechnology techniques, recombinant DNA still plays an important role in the production of several major medical products. Among the objects below are several of the early formulations of Humulin as well as some of the other early recombinant pharmaceuticals produced in the 1980s and 1990s.
"Recombinant DNA and the Birth of Biotech - Recombinant Drugs" showing 1 items.
Description (Brief)

Roferon-A is an injectible, recombinant pharmaceutical used to treat different types of leukemia, malignant melanoma, multiple myeloma, non-Hodgkin's lymphoma, AIDS-related sarcoma, and hepatitis. It was discontinued in October 2007, as new therapies for the diseases it treated were developed.

Recombinant pharmaceuticals are created by inserting genes from one species into a host species, often yeast or bacteria, where they do not naturally occur. The genes code for a desired product, and therefore the genetically modified host organisms can be grown and used as a kind of living factory to produce the product. In this case, genes coding for human interferon are inserted into bacteria. Interferon is a substance that is naturally made by the body to fight infections and tumors. Bacteria produce the interferon, which is harvested and used as the active ingredient in Roferon-A.

Object consists of a sealed white cardboard box with red and black printing. Box contains 10 single-use, 1 mL vials.

Location

Currently not on view

maker

Hoffmann-La Roche

Roche Laboratories

ID Number

1987.0786.02

accession number

1987.0786

catalog number

1987.0786.02

Data Source

National Museum of American History, Kenneth E. Behring Center
---