---
Calculating Machines
Stepped Drum Calculating Machines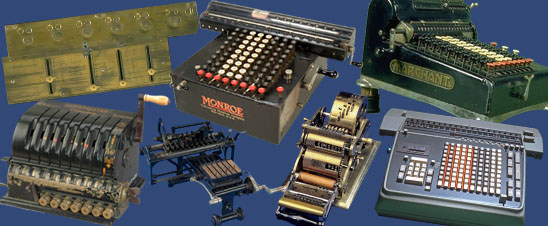 The distinguished mathematician and philosopher Gottfried William Leibniz started thinking about stepped drum calculating machines in the 1670s, and an eighteenth century instrument built on his design survives. However, it was the French insurance executive Charles Xavier Thomas (1785-1870) who invented and sold the first commercially successful calculating machine. Proposed in 1820, it would sell successfully from about 1850.
Thomas's calculating machine, which he dubbed the arithmometer, had cylindrical brass drums, each with nine teeth that varied in length. If a setting lever was at "9", it engaged nine teeth, at 8, eight teeth and so forth. This stepped drum mechanism would be modified over time, with different metals used for the stepped drums, much of the drum cut away, and different arrangement of the teeth on the gears. Nonetheless, the stepped drum survived as part of some calculating machines as long as they were manufactured.
"Calculating Machines - Stepped Drum Calculating Machines" showing 2 items.
Description

The Swedish-born inventor Carl Friden was stranded in Australia during World War I and then, on his way back to Sweden, decided to settle in California. He found a place at the Marchant Calculating Machine Company, taking out several patents for machines manufactured there. By 1933 he had decided to start his own company. The Friden models A (8-digit entries) and B (10-digit entries) appeared in 1934.

In 1936 the young company introduced this machine, the model C. It featured automatic return clearance for the carriage and dials and was sold in two sizes, one that allowed entry of numbers up to eight digits long (the C 8) and one allowing ten-digit entries (the C 10). This is an early example of the C 10. It has a case painted greenish black. A later version of the model C, introduced in about 1941, had a gray case. It sold until 1949.

The stepped drum, full-keyboard electric non-printing calculating machine has ten columns of black and white plastic number keys, colored to make it easy to distinguish different units of money. A blank clearance key of red plastic is at the bottom of each column. Metal rods between the columns of keys turn to indicate decimal places. On the right are red and black function keys. The machine has no separate keys for multiplication.

Behind the number keys is a movable carriage with an 11-digit revolution register and a 21-digit result register. An arrow above the first column of keys assists in setting the carriage. The result register has plastic buttons above it that can be used to set up numbers. Decimal markers slide above the two registers. Zeroing knobs are on the right of the carriage. The cord is missing. The corners of the machine have metal streamlines. It resembles in key color and general appearance the contemporary Marchant keyboard electric machines built on Friden's patent.

The machine is marked on the sides: FRIDEN. A second mark, visible through a window at the front of the machine, is: C10-41272. A paper tag glued to the front left of the machine reads: FRIDEN CALCULATIN [...] ACHINE CO. (/) OAKLAND, CALIF. The Friden Calculating Machine Company moved from Oakland to San Leandro in 1936.

Compare the Marchant ERB calculating machine with museum number 1977.1225.01, as well as a later model C 10 with catalog number MA*335422.

This machine was transferred to the collections from the Office of Exhibits at the Smithsonian's National Museum of Natural History in 1982. It had no Smithsonian Institution tag.

References:

Carl Holm, "Milestones in the Development of Friden."

Ernie Jorgenson, Friden Age List, Office Machine Americana, p. 1

Location

Currently not on view

date made

1936

maker

Friden Calculating Machine Company

ID Number

1982.0243.01

catalog number

1982.0243.01

accession number

1982.0243

maker number

C10 41272

Data Source

National Museum of American History, Kenneth E. Behring Center

Description

By 1939 Friden Calculating Machine Company had introduced a "Supermatic" version of its calculating machine that featured multiplication by direct entry of digits (rather than repeated addition). This is an example of that full-keyboard non-printing electric stepped drum machine. It has a metal frame painted gray and ten columns of color-coded gray and blue-green plastic number keys, with a blank green key at the bottom of each column.

Metal rods between the columns of keys turn to indicate decimal places. On the right are two columns of function bars and keys. On the left is a register that indicates numbers entered for multiplication. Below it is a block of 9 white digit keys, with a 0 bar below. These are surrounded by further levers and function keys.

Behind the number keys is a movable carriage with an 11-digit register and a 21-digit result register. The result register has plastic buttons above it that can be used to set up numbers. Zeroing knobs for the registers are on the right of the carriage. Decimal markers slide below the two registers on the carriage. The machine has four hard rubber feet. An electric cord attachs to the machine at the back.

A mark on the bottom of the machine reads: S10-105632. A mark on the back and sides reads: FRIDEN. A sticker attached to the bottom reads: MODEL S. It also reads: FRIDEN CALCULATING MACHINE CO., INC. [() MADE IN SAN LEANDRO, CALIFORNIA, U.S.A. It also reads: DESIGN PAT. 103,425.

Design patent D103,425 was granted to Carl M. Friden March 2, 1937. According to Carl Holm of Neopost, the model S 10 was introduced in 1938. The date given is from Jorgenson.

Reference:

Ernie Jorgenson, Friden Age List, Office Machine Americana, p. 2.

Location

Currently on loan

date made

1939

maker

Friden Calculating Machine Company, Inc.

ID Number

MA*334378

catalog number

334378

accession number

313935

maker number

S10 105632

Data Source

National Museum of American History, Kenneth E. Behring Center
---