---
Duplan "Martine" Silks -- Duplan's Martine dress silks
Duplan's Martine dress silks

Plain silks were often used as the ground fabrics for printed designs—in this group by Duplan are four different ground fabrics, three of them trademarked. These are: "Ruisselet" – a warp-faced plain weave with a crinkled texture, described as "a kind of pongee;" "Crepe Chinois," a lightweight plain weave with uneven (slubbed) weft yarns, like shantung; charmeuse, a soft, thin satin-weave fabric; and "Fleur de Jeunesse," a fine, soft plain weave like taffeta but without the crisp finish. Consumers in this period were used to purchasing fabrics, rather than ready-made clothing, and so they were generally well-educated about different fabric types and qualities: the descriptors above would have been very meaningful to most women in the 1910s.
Duplan publicity highlighted the fact that these fabrics were "Woven, printed, and finished in the US, sold and delivered in Paris and London. Designs by the Martine School of Decorative Art, Paris, France, [which was] directed, owned, and personally supervised by Mr. Paul Poiret, who is universally acknowledged as the greatest creator of women's fashions of the present century."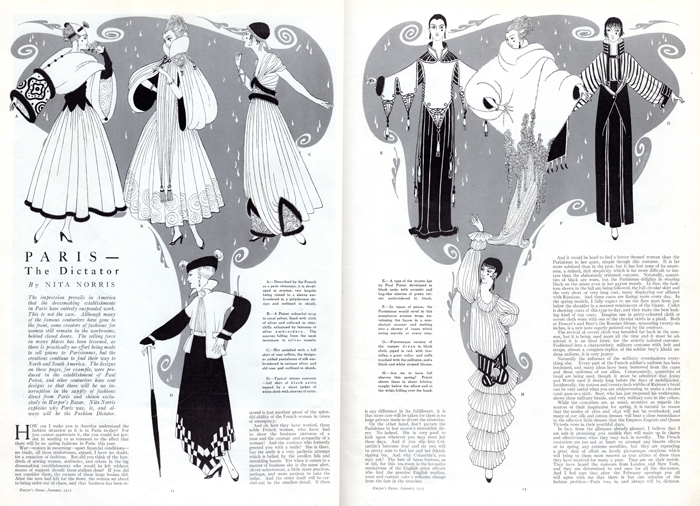 Harper's Bazar article "Paris—The Dictator," January, 1915
Four designs are represented in the samples Duplan donated to NMAH in 1914. Each of them displays a drawing style that could be characterized as naive or simplified, and saturated colors – characteristics not only of the Martine school but of the contemporary design work that Poiret admired in Austria and Germany. "Bouquet" has small flowers and leaf sprigs on a striped ground. "Bishop" has a design of scattered scrolls and flowers. "Pekin" is a design of irregular stripes. "Lizeron," a type of flowering vine, is the final title, and the design owes much to the styles popularized by Austria's avant-garde design firm, the Wiener Werkstätte. Duplan made it clear in their publicity materials that although the other designs had been adapted for printing by the firm's engraved cylinder-printing machines, "Lizeron" had been hand block-printed, a process that took many more hours and skilled hands. What we don't know is whether the company charged more for the hand printed design than for the others.
---