---
Mathematical Charts and Tables -- Special Purpose Tables
Special Purpose Tables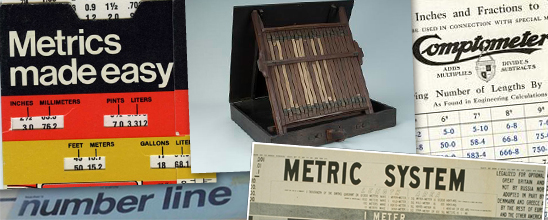 Special Purpose Tables
From at least the 1930s through the 1960s, American manufacturers distributed a variety of tables that customers might use. This was sometimes in the form of a pamphlet, such as the set of miscellaneous hydraulic tables for designers prepared by the Southwark Foundry and Machine Company Division of Baldwin-Southwark Corporation in 1931. Other special purpose tables, distributed on slide charts of various sorts, described properties of such materials as leaded bronze, nickel alloys, specialty steels, wire cloth, glass, and salt/water mixtures. Others gave properties of compressors, elements of screw threads, and data on the dietary advantages of various forms of meat, The Aetna insurance company prepared a table instructing drivers on the safe distances to be maintained between cars. As late as 1969, a manufacturer of paper goods distributed a slide chart for calculating the cost per ounce of groceries, and urged consumers to make careful comparisons of prices. Some tables were not associated with any specific product. Thus the "Menu Minder," distributed in the mid-1970s, allowed one to quickly alter recipes to serve more or fewer people. It may have been distributed as a kitchen novelty by any number of firms.
Tables distributed by business machine manufacturers have been mentioned already. In addition to covering the needs of commerce and special forms of manufacturing, some of these offered ways to estimate square roots and cube roots.
Specialized tables also were prepared for government use. Military contractors prepared tables to assist in aiming guns and filling out Air Force inventory forms. The Atomic Energy Commission prepared a table for use in uranium enrichment plants.
21
Page 1 of 2
Description

Manufacturers compiled and distributed tables for designers who would use their products. This 32-page pamphlet, published in August, 1931, by the Southwark Foundry and Machine Company Division of the Baldwin-Southwark Corporation, brought together data "of particular interest and value" to those "engaged in the use of hydraulic equipment - particularly those structures involving the use of hydraulic pressures for load-producing purposes."
Tables included give:
1. the circumferences and areas of circles of diameters ranging from 1/64" to 98."
2. conversions between standard and metric units of length, area, volume, velocity, weight, pressure, and power.
3. the capacities of hydraulic rams
3. plunger displacements
4. wire and sheet metal gauges
5. properties of steel pipes and bolts
6. the specific gravity of diverse substances
7. strength of diverse materials
8. friction losses in fluid flow
9. properties of various cross sections of pipe
10. properties of diverse beams
11. methods of finding moments of inertia
12. trigonometric formulae
13. properties of springs
14. graphs for estimating the weights of solid and hollow cylinders.

Location

Currently not on view

date made

1931

maker

Baldwin-Southwark Corporation

ID Number

1979.3074.07

nonaccession number

1979.3074

catalog number

1979.3074.07

Data Source

National Museum of American History

Description

This paper slide chart has a blue-gray envelope that includes a sliding chart printed in black on white. It served as an advertisement for the leaded bronzes produced by Sumet Corporation of Buffalo, New York.
A window on the front of the envelope reveals a column of the slide that lists the commercial designation of a Sumet product, and its chemical composition (mainly copper and lead, with varying amounts of tin, and some zinc, nickel and phosphorus). Also listed for the product are such physical properties as tensile strength, elongation, Brinnell hardness, static load, and weight (in pounds per cubic inch). A window on the back shows a listing on the slide of the general applications of the same bronze.
A mark on the front reads: Technical Data (/) for LEADED BRONZE. A mark on the back reads: SUMET CORP., BUFFALO, N. Y. A copyright sign precedes the company name.
Bronzes with commercial designation from SM-4 through SM-18 were being produced by Sumet Corporation from at least 1931 to at least 1937. Hence the rough date of 1935 assigned to the object.

Location

Currently not on view

date made

ca 1935

maker

Sumet Corporation

ID Number

1988.3076.04

catalog number

1988.3076.04

nonaccession number

1988.3076

Data Source

National Museum of American History

Description

This small slide chart allows motorists to find their "danger zone," that is to say the distance an automobile will move forward in feet after a motorist wishes to stop, as this varies with the speed of the car (ranging from 20 to 80 miles per hour) and the reaction time of the driver (ranging from 1/4 second to 1 second). The total stopping distange or "danger zone" ranges from 29 feet to 469 feet.
The envelope and slide are of white paper, printed in red and black. A mark on the front, the back and one side of the slide reads: COPYRIGHT, 1935, AETNA CASUALTY & SURETY CO.

Location

Currently not on view

date made

ca 1935

maker

Aetna Casualty and Surety Company

ID Number

1979.3074.06

nonaccession number

1979.3074

catalog number

1979.3074.06

Data Source

National Museum of American History

Description

Companies seeking to provide customers with advertisements they might consult repeatedly sometimes distributed convenient mathematical tables. This is an example of one of these. The small white plastic card has figures printed in black. The table gives approximate conversions between the figures obtained from several different methods of measuring the hardness of nickel alloy steels. The numbers are associated with the Brinnell, Vickers or Forth, Rockwell, and Shore scales, as well as the tensile strength.
One edge of the table contains a scale 10 centimeters long, divided to millimeters. The other contains a scale 4 inches long, divided to 1/20th of an inch.
The reverse of the table describes the advantages of Ryerson certified steels. It is marked in part: 75C 2-39. It is also marked: PRINTED (/) IN (/) U.S.A.

Location

Currently not on view

date made

1939

maker

Joseph T. Ryerson & Son, Inc.

ID Number

1988.3076.03

catalog number

1988.3076.03

nonaccession number

1988.3076

Data Source

National Museum of American History

Description

This slide chart, distributed by the Qunicy Compressor company of Quincy, Illinois, is designed to allow customers to select the appropriate model of Quincy air compressor to purchase, knowing the pressure at which the air is to be delivered and the number of cubic feet per minute of air delivery desired. On one side, pressures range from 30 to 100 pounds On the other, they range from 110 to 250 pounds. For each model, the chart indicates the horsepower, speed, and piston displacement.
The chart consists of a paper envelope held together with metal rivets and a paper slide that moves crosswise. A mark near the bottom reads: Copyright 1941 Perry Graf Corp. Maywood, Ill. Slide charts made by Perry Graf that are in the Museum collections include 1979.3074.03, 1983.3009.04, 1983.3009.05,1983.3009.06, 1987.0108.03, and 1988.0325.01, and 1988.3076.01.

Location

Currently not on view

date made

ca 1941

maker

Quincy Compressor Co.

ID Number

1988.3076.01

catalog number

1988.3076.01

nonaccession number

1988.3076

Data Source

National Museum of American History

Description

This paper model slide chart has an envelope held together by staples and a rectangular slide, It contains tables relating to the size and shape of screw threads, as standardized in the mid-20th century United States. Tables on one side are for the "National Fine Series," those on the other side for the "National Coarse Series." Fine screws move a relatively short distance each time the screw is turned, and have greater locking power.
Assuming that screws are of the general form proposed by William Sellers of Philadelphia in 1864, the chart gives the depth of the thread element, the width of the flat portion of the base, the tap drill size to be used in fabricating the screw, and the best wire size for measuring the screw (that is to say, the wire size that will just touch the thread at the pitch diameter). It also indicates the maximum and minimum dimensional tolerances for different classes of fit from the loosest (class 1) to the most precise (class 4).
A mark on the front reads: QUICK SLIDE (/) THREAD ELEMENTS. A mark on the back reads: COPYRIGHT 1946 BY CAPELL DESIGNING CO. BOX 993 CHURCH ST. STA. NEW YORK 8, N.Y. The back is stamped: [copyright symbol]CI I pub. 430. Below this is the date stamp: FEB - 7 1946. A nearby stamp reads: SURPLUS (/) DUPLICATE and shows the seal of the Library of Congress.
Rockford D. Robbins and John E. Capell of New York copyrighted the instrument in February of 1946. It seems likely that this was the copy of their device submitted to the Copyright Office of the Library of Congress. No manufactured example of the instrument is yet known.
References:
Bruce Sinclair, "At the Turn of a Screw: William Sellers, the Franklin Institute, and a Standard American Thread,"
Technology and Culture , vol. 10, No. 1 (Jan., 1969), pp. 20-34
United States Library of Congress, Catalog of Copyright Entries 1946 Works of Art . . .

Location

Currently not on view

date made

1946

maker

Capell Designing Company

ID Number

1983.3009.03

catalog number

1983.3009.03

nonaccession number

1983.3009

Data Source

National Museum of American History

Description

This slide chart advertises the properties of the ELASTUF machinery steels manufactured by Beals, McCarthy & Rogers, Incorporated, of Buffalo, New York. It consists of a paper envelope with metal rivets and a paper slide. Lining up an arrow on the slide with a type of steel listed along the top of the front reveals in a window of the envelope a general description of the properties of the steel. The other side of a chart shows the physical properties of that type of steel (its tensile strength, yield point, elongation and reduction) for different bar sizes.
A mark along the bottom right of the back reads: COPYRIGHT 1947 BEALS, McCARTHY & ROGERS, INC. A mark on the slide reads: MANUFACTURED BY (/) GRAPHIC CALCULATOR CO. (/) CHICAGO 5, ILL. (/) MADE IN U.S.A.
For other products of Graphic Calculator Company, see 2000.3029.02 and 2000.3029.13.
Graphic Calculator Company was a slide rule and slide chart manufacturing and design company founded in Chicago in 1940 by Capron R. Gulbransen, and apparently still in business at the time of Gulbransen's death in 1969. By 1965, the firm had moved to Barrington, Illinois.
Reference:
Obituaries, Chicago Tribune, August 11, 1969, p. A6

Location

Currently not on view

date made

1947

maker

Beals-McCarthy & Rogers

ID Number

1988.3076.02

catalog number

1988.3076.02

nonaccession number

1988.3076

Data Source

National Museum of American History

Description

Mathematical tables like this one were distributed by producers to persuade consumers of the value of their products. This instrument consists of a disc with a smaller disc that rotates above it. A metal clasp at the center holds the two pieces together. A slot in the upper disc reveals one column of the table printed on the disc below. This table gives the percentage of daily recommended dietary allowances supplied by a 3.5 oz serving of beef, lamb, pork, and veal. The percentages are given for children of ages 3-4 years, 4-6 years, 7-9 years, and 10-12 years; teenaged boys 13-15 and 16-19 years old; teenaged girls 13-15 and 16-19 years old; women of ages 25, 45, and 65; and men of ages 25, 45, and 65. The daily requirements of protein, calories, iron, thiamine, riboflavin, and niacin supplied by a serving of meat are indicated. The back lists the nutrition provided by strained meat fed to infants and gives references for the calculations. These references date from 1950 and 1958.
The instrument is marked on the front: The percentages of (/) daily recommended dietary (/) allowances supplied by one (/) 3 1/2 oz. serving of cooked MEAT for moderately active children and adults. It is marked on the front and the back: NATIONAL LIVE STOCK AND MEAT BOARD. It is marked on the back: A Product of Graphic Calculator Co., Chicago 5, Ill.
Graphic Calculator Company was a slide rule and slide chart manufacturing and design company founded in Chicago in 1940 by Capron R. Gulbransen, and apparently still in business at the time of Gulbransen's death in 1969. By 1965, the firm had moved to Barrington, Illinois.
Reference:
Obituaries, Chicago Tribune, August 11, 1969, p. A6.

Location

Currently not on view

date made

ca 1960

maker

Graphic Calculator Company

ID Number

2000.3029.12

nonaccession number

2000.3029

catalog number

2000.3029.12

Data Source

National Museum of American History

Description

By the mid-20th century, industrial chemists had introduced a form of hydrometer for measuring brine strength from the density of a water/salt solution at a known temperature. This rotating table allows one to find the chemical properties of solutions of sodium chloride (common table salt) in water at a temperature of 60 degrees Fahrenheit in degrees of the "salometer scale." By definition, the salometer degree indicates percentage of saturation of a salt solution. For example, a reading of 70 indicates 70% saturation. Hence the scale runs from 0 to 100.
The slide chart consists of two paper discs of the same size, with a third slightly larger disc between them. The middle disc is elongated at one end and has a hole so that it may be suspended. A metal rivet holds the discs together at the center. Cutouts in the two smaller discs allow one to read tables printed on the central disc. The front of the instrument has tables for 0 to 50, and the reverse for 51 to 100. For each salometer degree, the table lists such chemical properties of the solution as its specific gravity, the percentage by weight of sodium chloride, the weight in pounds of one gallon of brine, the number of pounds per gallon of brine of both sodium chloride and water, the weight of one cubic foot of brine, the number of pounds per cubic foot of both sodium chloride and water, the number of gallons of water per gallon of brine, the number of pounds of salt per gallon of water, and the freezing point in degrees Fahrenheit. Another table indicates how one should adjust readings in degrees salometer when measurements are taken at temperatures other than 60 degrees Fahrenheit.
A mark on the top disc reads: BRINEMASTER (/) dial-a-brine. A second mark there reads: Diamond Crystal Salt Company (/) ST. CLAIR, MICHIGAN. A mark on the bottom disc reads: Slide-Chart Copr. [sic] 1962, PERRYGRAF Corp., Maywood, Ill.
The salinity of brines was expressed in salometer degrees from at least the 19th century.
References:
L. C. Beck, "Report on the Mineralogical and Chemical Department of the Survey," In Assembly: State of New York, Issue 150, 1841, p. 18.
E. Meriam, "American and Foreign Salt," Sixth Annual Report of the American Institute of the City of New York, 1848, p. 207.
A. D. Morrison-Low, "Hydrometer," Instruments of Science: An Historical Encyclopedia, eds. R. Bud and D. J. Warner, New York & London: Garland Publishing, 1998, pp. 311–313.

Location

Currently not on view

date made

ca 1962

maker

Perrygraf Corporation

ID Number

2000.3029.14

nonaccession number

2000.3029

catalog number

2000.3029.14

Data Source

National Museum of American History

Description

This slide chart has a plastic sleeve that holds a cardboard slide. One side of the slide has a table giving the properties of various forms of filter cloth and wire cloth. The other side has two graphs.
The Multi-Metal Wire Cloth Company distributed this plastic slide chart to allow its customers and potential customers to compare the flow rates and particle retention of various forms of woven wire and woven fabric. Results were based on observations carried out at Columbia University. A paper sticker attached to the back of the sleeve gives further details of the calculation.
A mark on the front of the sleeve reads: MM (/) CALCULATOR. A mark on the back of the sleeve reads: Multi-Metal (/) WIRE CLOTH COMPANY, INC. (/) 1350 GARRISON AVE. (/) NEW YORK 59, NEW YORK (/) PRINTED IN USA COPYRIGHT 1959. The slide and the paper envelope are stamped: SEP 18 1963.
This object came to the Smithsonian as part of a large collection of trade literature relating to meat processing donated by the Cincinnati Boss Company of Cincinnati, Ohio.

Location

Currently not on view

date made

1963

maker

Multi-Metal Wire Cloth Company

ID Number

2000.3029.15

nonaccession number

2000.3029

catalog number

2000.3029.15

Data Source

National Museum of American History

Description

This orange and black paper device has a set of tables printed on both sides of a piece of cardboard that slides between two other pieces of cardboard that are riveted together. The whole thing fits in a cardboard envelope. The tables are used to calculate the total heat gain from light shining through windows and other glass in a building. The instrument was distributed by Libbey Owens Ford Company, a glass firm in Ohio.
A mark on the envelope and the object reads: HEAT GAIN CALCULATOR; A paper sticker attached to the envelope reads: Display Copy Only (/) Please do not remove. A mark on the back of the instrument in the bottom right corner reads: ... 1975, PERRYGRAF Div., Nashua LA. CA 90064 Printed in U.S.A. A mark on the front left corner reads: LOF (/) GLASS (/) 811 MADISON AVENUE (/) TOLEDO, OHIO 43695. A mark on the front of the instrument reads: LIBBEY (/) OWENS (/) FORD (/) COMPANY.

Location

Currently not on view

date made

1975

maker

Perrygraf Division, Nashua

ID Number

1996.3078.01

nonaccession number

1996.3078

catalog number

1996.3078.01

Data Source

National Museum of American History

Description

This red, white, and blue cardboard slide chart has logarithmic scales for calculating the cost per ounce or unit of goods selling at prices ranging from ten cents to ten dollars apiece. The cost is given on the envelope, the number of ounces or units on the sliding scale, and the cost per ounce or unit on a scale below on the slide. Windows in the envelope reveal the scales.
The reverse side of the slide has a listing of the calorie content of a single serving of selected common foods and beverages.
A mark on the front reads: Hudson Shopper's Guide. A mark on the back reads: Hudson Calorie Counter. Other mark there read: Copyright 1969 I. Taxel, Woodmere N.Y., and: Hudson Pulp & Paper corp. (/) 477 Madison Avenue (/) New York, N.Y. 10022. Hudson sold napkins, towels, and bathroom and facial tissue, and urged consumers to compare prices before making purchases.
The I. Taxel mentioned is most probably Irving Taxel, who established Promotional Slideguide in Woodmere, New York, after World War II. His son Nelson Taxel took over the business.
Compare 1988.3078.03.
Reference:
F. Lowery, "Irving Taxel, Helped Found Boca Lodge, B'nai Brith," Sun Sentinel, July 9, 1994.

Location

Currently not on view

date made

ca 1969

maker

Hudson Pulp & Paper Corp.

ID Number

2001.3103.03

nonaccession number

2001.3103

catalog number

2001.3103.03

Data Source

National Museum of American History

Description

This rotating cylindrical table helps a cook to alter the quantities of ingredients in recipes.
A three-column table on the left side indicates how quantities should be multiplied for a recipe with four servings to one with six or eight servings. The rightmost column (for four servings) has the numbers 1, 1-1/3, 2, 3, 6, 8, 10, and 12, with the numbers in the middle column ranging from 1 1/2 to 18 and the numbers in the third column from 2 to 24.
A second table show how one should alter the number of cups, tablespoons and teaspoons in a recipe to change it by a factor of 3, 2, 3/4, 1/2, 1/4, 2/3, or 1/3. The cylinder has knobs at both ends for rotation. It is enclosed in a brown plastic case with a clear plastic front that has a sticker attached to it. Two windows in the sticker show the tables.
A mark on the center of the sticker reads: MENU MINDER (/) A RECIPE CALCULATOR. A mark on its right edge reads; COPYRIGHT WILLE ENTERPRISES 1974. A mark on the back reads: MFG BY (/) PROTO PRODUCTION PLAS [. . .] (/) BOULDER COLO. The mark on the back is partly obscured by two of five magnets that will hold the Menu Minder to a metal surface.

Location

Currently not on view

date made

1974

maker

Willie Enterprises

manufacturer

Proto Production Plastic

ID Number

2001.3103.01

nonaccession number

2001.3103

catalog number

2001.3103.01

Data Source

National Museum of American History

Description

Before the introduction of calculating machines that could compute cube roots of numbers directly, calculating machine manufacturers distributed tables to assist in these calculations. This table was developed by employees of Marchant Calculating Machine Company in Oakland, California, for use with its machines.
The table is of heavy paper, printed in black., and includes instructions on how it is to be used to find cube roots to the fifth and to the tenth significant figure. A drawing of a Marchant calculating machine is at the top, toward the left. A mark at the bottom left reads: TABLE 56. Another mark along the bottom reads: PRINTED IN U. S. A. A third mark along the bottom reads: COPYRIGHT 1941 MARCHANT CALCULATING MACHINE COMPANY, OAKLAND, CALIF., U. S. A.
Compare 313984.04, which gives a table for finding cube roots. The table came with Marchant calculating machine MA.334384. The donor, Richard H. Hronik (1911–2003), held a number of patents in transportation engineering and did design work relating to railroad systems built for the Indian government. He went on to work for the firm Melpar as a materials science engineer.
References: D. H. Lehmer, "Review of Square Root Divisors. . .," Mathematical Tables and other Aids to Computation, 1, 1945, pp. 356–357.

Location

Currently not on view

date made

1944
1941

maker

Marchant Calculators

ID Number

MA.313984.03

accession number

313984

catalog number

313984.03

Data Source

National Museum of American History

Description

Before the introduction of calculating machines that could compute cube roots of numbers directly, calculating machine manufacturers distributed tables to assist in these calculations. This table was developed by employees of Marchant Calculating Machine Company in Oakland, California, for use with its machines.
The table is of heavy paper, printed in black. and includes instructions on how it is to be used to find cube roots to the fifth and to the tenth significant figure. A drawing of a Marchant calculating machine is at the top toward the left. A mark at the bottom left reads: TABLE 68. Another mark along the bottom reads: PRINTED IN U. S. A. A third mark along the bottom reads: COPYRIGHT 1944 MARCHANT CALCULATING MACHINE COMPANY, OAKLAND, CALIF., U. S. A.
The table is based on the observation that if three numbers are almost the same size, then their arithmetic mean (the average value of the three numbers) is nearly equal to their geometric mean (the cube root of the product of the numbers). Suppose three such numbers are A, A, and N (the first two numbers are the same). Then the the cube root of the expression N times A squared equals (N+2A)/3, or the cube root of N equals (N+ 2A) / (3 (A)2/3). The table gives values of A and three times A to the 2/3, for A running from 100 to 999. A user can compute the cube root of a number N by finding the A nearest N, adding N and twice A, and dividing the sum (using a calculating machine) by three times A to the two thirds power, as given in the table. The instructions suggest how the procedure should be modified according to the decimal value of the number.
Compare MA.313984.03, which gives a table for finding square roots. The table came with Marchant calculating machine MA.334384. The donor, Richard H. Hronik (1911–2003), held a number of patents in transportation engineering and did design work relating to railroad systems built for the Indian government. He went on to work for the firm of Melpar as a materials science engineer.
References: D. H. Lehmer, "Review of Square Root Divisors. . .," Mathematical Tables and other Aids to Computation, 1, 1945, pp. 356–357.

Location

Currently not on view

date made

1944

maker

Marchant Calculators

ID Number

MA.313984.04

accession number

313984

catalog number

313984.04

Data Source

National Museum of American History

Description

These two paper leaflets provide numerical values needed for finding square roots to eight significant digits (Table No. 80) and to six significant digits (Table No. 81). Table 80 was copyrighted in 1951, Table 81 in 1952. These copies of the tables were issued after Marchant became a division of Smith-Corona Marchant Inc. in 1958.
Table 80 allows one to compute square roots on a calculating machine to eight significant digits using a combination of additions and two divisions. Table 81 allows one to find less precise values of the same function using additions and only one division.
Compare to MA.313984.03.
Reference:
Mathematical Tables and Other Aids to Computation, 7, 1953, p. 168–169.

Location

Currently not on view

date made

ca 1958

maker

Marchant. Division of Smith-Corona Marchant Inc.

ID Number

1979.3084.096

nonaccession number

1979.3084

catalog number

1979.3084.096

Data Source

National Museum of American History

Description

This chart, drawn on a rigid white plastic sheet, has five equally spaced concentric circles, each divided into eight equal sections by lines through the center of the circle. The outer circle is divided into 64 equal segments, which are numbered counterclockwise from 0 to 32 on the left half of the circle. On the right half, segments are numbered from 0 at the bottom counterclockwise to 30 at the top, and also from (34) to (64).
A mark at the bottom left reads: CARD, TANK RANGE (/) 8724207. A mark on the left top reads: HUNDREDS OF MILS. There are 6400 mils in a circle of 360 degrees angular measure.
The object comes from the Felsenthal Collection of computing devices. According to the accession file it was made by Felsenthal for the U.S. Army in 1955, and had Felsenthal designation FA0-51. It may have been used by the tank gunner to lay his gun on target, before the availability of electronic or laser sighting.
Reference:
Accession file 1977.1141.

Location

Currently not on view

date made

1955

maker

G. Felsenthal & Sons, Inc.

ID Number

1977.1141.06

catalog number

336390

accession number

1977.1141

Data Source

National Museum of American History

Description

This device assists in calculations of changes in the range of a gun because of meteorological conditions, particularly wind speed and temperature. A rotating disc and pointer attached to the plastic base have the scales required to correct for wind speed. A scale toward the bottom of the base gives the temperature correction. Both of these corrections are in percentages of the range. Summing them gives the total meteorological correction as a percentage of the range. One then can use a range correction chart to find the actual range correction.
A mark on the front of the instrument reads: Signal Corps U. S. Army (/) SOUND VELOCITY CORRECTOR PT-62/TSS-1 (/) Order No. 3531-CEGSA-45 G. FELSENTHAL & SONS - CHICAGO.
The instrument was designed and made for the United States Army by G. Felsenthal & Sons of Chicago in 1945. It had Felsenthal designation FAS-2.
For a related range correction chart, see 1977.1141.43.
Reference:
Accession file.

Location

Currently not on view

date made

1945

maker

G. Felsenthal & Sons, Inc.

ID Number

1977.1141.42

catalog number

336426

accession number

1977.1141

Data Source

National Museum of American History

Description

This white plastic chart was designed for the U.S. Army Signal Corps. It is a nomogram for finding the range correction in yards of a weapon, by lining up the meteorological correction as a percentage of the range and the range.
On the left is a scale marked "Range Correction in Yds." On the right is a scale marked "Percentage Meteorological Correction" and on the diagonal between the two is a scale marked "Range in Yds." According to a label received with the object and stored in the accession file, the object was made in 1945.
The meteorological correction is found from the temperature and wind speed using a related chart called a "sound velocity corrector" (for an example, see 1977.1141.42) .
A mark on the object reads: Range Correction Chart PT-63/TSS-1.
For an explanation of the mathematical theory of this kind of nomogram, see Lipka. For a similar device used for another purpose, see 1985.0636.01.
References:
Joseph Lipka, Graphical and Mechanical Computation. Part I. Alignment Charts, New York: John Wiley & Sons, 1921, pp. 65–
67.
Accession file.

Location

Currently not on view

date made

1945

author

G. Felsenthal & Sons

ID Number

1977.1141.43

catalog number

336427

accession number

1977.1141

Data Source

National Museum of American History

Description

This slide chart is designed to assist in coding United States Air Force forms for inventory control. The envelope is of clear plastic printed in blue, with a white plastic card that slides crosswise. The sliding card has columns for eight Air Force forms (forms number 158A&B, 158C&D, 813, 814, 815, 158-7, 366J&K, and 366L&M). The numbers in each column indicate the place on the form on which the data is to be entered. For example, in all eight forms spaces 1through15 are for the stock number and spaces 31through 34 are for the organization number. The first 56 spaces are described on the front of the sliding card. The remainder (up to 80) are on the back.
It is possible that the forms described are 80-column punch cards, such as those made by IBM for use with electronic data processing equipment.
A mark on the front of the envelope reads: Code Designator (/) Slide Chart. A mark on the back of the envelope reads: Felsenthal Instruments Co.1963 (/) Chicago 31, Illinois (/) MFR's PT.NO. FAA-141-A.

Location

Currently not on view

date made

1963

maker

Felsenthal Instruments Co.

ID Number

1977.1141.44

catalog number

336428

accession number

1977.1141

Data Source

National Museum of American History
Pages
---