---
Mathematical Charts and Tables -- Tables for Monetary Transactions
Tables for Monetary Transactions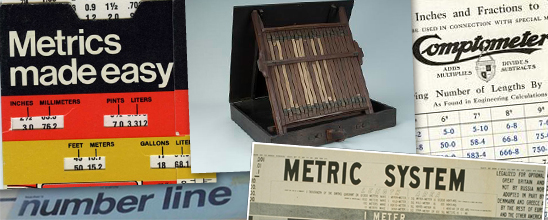 Tables for Monetary Transactions
American merchants, bankers, and employers have used a wide range of tables to ensure the accuracy of monetary transactions. Some of these tables were produced for stand–alone use, while others were designed to aid those calculating with machines.
As early as 1812, Joseph Jelleff of New York State patented a disc with printed scales used for interest calculations. Versions of this instrument sold at least into the 1830s. William B. Leavitt of New Hampshire copyrighted a similar wooden instrument in 1845. A few years later, Samuel S. Young of Ohio patented a linear instrument for interest calculations. In 1867, Albert Pierson of New Jersey patented a rather different device, in which the tables were mounted on rotating prisms, for the same purpose. Manufacturers of computing machines, such as Felt & Tarrant Manufacturing Company of Chicago and the Marchant Calculating Machine Company of California distributed interest tables to assist those using their products.
Those assessing and paying taxes also used tables. In 1879, Robert Levin Mudd, a county clerk in Illinois, patented a device to ease the work of correctly accessing taxes. In the 1930s, New York entrepreneurs introduced the Costometer, which was designed in part to assist in calculating newly introduced Social Security taxes. Tables also were used for computing both markups and discounts on goods sold, and for finding the total cost of sales, as when multiplying the rate of shipping freight per pound by the number of pounds shipped. Sometimes it is unclear precisely why units used were chosen, as in a handwritten multiplication table collected from a Massachusetts manufacturer of shuttles for looms.
---