---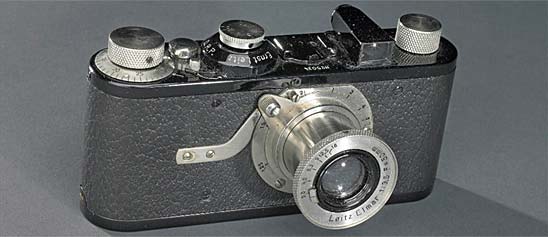 The millions of photographs in the Museum's collections compose a vast mosaic of the nation's history. Photographs accompany most artifact collections. Thousands of images document engineering projects, for example, and more record the steel, petroleum, and railroad industries.

Some 150,000 images capture the history, art, and science of photography. Nineteenth-century photography, from its initial development by W. H. F. Talbot and Louis Daguerre, is especially well represented and includes cased images, paper photographs, and apparatus. Glass stereographs and news-service negatives by the Underwood & Underwood firm document life in America between the 1890s and the 1930s. The history of amateur photography and photojournalism are preserved here, along with the work of 20th-century masters such as Richard Avedon and Edward Weston. Thousands of cameras and other equipment represent the technical and business side of the field.
"Photography - Overview" showing 2 items.
Description (Brief)

Albumen cabinet card of a very tall man wearing a long Chinese robe. The card is captioned "Chang-Yu-Sing, The Chinese Giant / Born at Pekin, 1847, Height over 8 feet, Weight 364 lbs / A. Bogardus & Co. Photo., 872 Broadway, cor. 18th St. N. Y." The man's cheeks and a plant in the photograph are tinted. The back of the cabinet card bears marks in Chinese written with a calligraphy pen.

Description

The Circus Collection includes the Photographic History Collection's object holdings related to the history of circus from the end of the nineteenth to the turn of the twenty-first century. For the purpose of this finding aid, circus is defined as any activity relating to the staging and viewing of circus, sideshow, or "freak show" performances. The collection is primarily composed of thirty cabinet print and thirteen carte-de-visite photographs of performers in circus "freak shows." Some of these prints are marked with the identities of the individuals depicted, including Chang and Eng, Siamese twins employed by the Barnum & Bailey circus and Tom Thumb, a famous performer with dwarfism. In a number of the photographs, the people who performed for the circus are accompanied by their families, or "normal" individuals to emphasize the distinctiveness of the performer. The collection also includes a photo album with twenty-three photographs of circus performers. These pictures show "freak show" performers, acrobats, and other individuals who may have performed in circus shows.

The collection also includes several books. In the handmade book, Record of an Idle Summer, Florence Albrecht details her summer activities and shares reflections on her time on the Jersey Shore in 1906. In the chapter "May," the author describes the circus coming to town, including several photographs of circus tents, elephants, and a parade down the main street of the town. P.T. Barnum's autobiography Struggles and Triumphs also exists in the Photographic History Collection. In the book, Barnum recounts his life's endeavors, including his New York American Museum and eponymous circus. While there are no photographs in the book, there are a number of illustrations, including a portrait of P.T. Barnum based on G. K. Warren's photograph, pictures of his museum and various aspects of his traveling show. There is a collection of gelatin silver photographs made in 1972 by Leslie Sussmann and Sally Bordwell documenting carnivals across the American South.

Location

Currently not on view

date made

late 19th century

ID Number

PG*74.25.12

accession number

2009.0146

catalog number

74.25.12

Data Source

National Museum of American History, Kenneth E. Behring Center

Summary

Cover illustration: Man in boots, brown coat and jacket holding length of film. Man in white (possibly Asian) running machine on other side of table. Characters on tent in background suggest Asian location, as well as vague architecture in background.

Date

1905

advertiser

Eastman Kodak Company

Local number

AC0060-0000184 (AC Scan No., cover or catalog)

Data Source

Archives Center - NMAH
---