Protractors - Innovation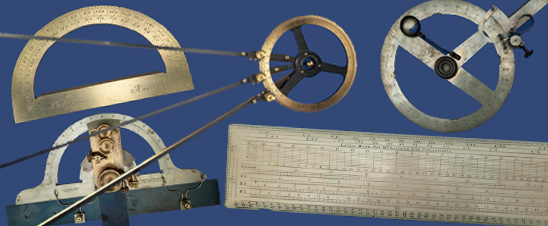 While only one patent model for a protractor survives in the Smithsonian collections—from an inventor with a colorful personal history—several of the other objects also provide examples of technical innovation. For instance, some are manufactured versions of patented inventions. Others were named for the person with whom they were associated, even if that engineer or craftsman laid no claim to designing that protractor.
"Protractors - Innovation" showing 1 items.
Description

Meriwether Jeff Thompson (1826–1876) grew up in Harpers Ferry and attended military school in Charleston, Virginia (now West Virginia). After he was rejected for admission by West Point and Virginia Military Institute, he worked his way West. He settled in St. Joseph, Missouri, when he married at age twenty-two. He then found employment in civil engineering and rose to prominence with the construction of the Hannibal and St. Joseph Railroad, which was completed in 1859. In the late 1850s, he served as mayor of St. Joseph. On April 3, 1860, he gave a speech officially opening the Pony Express.

Thompson's sympathies were with the South. As a brigadier general for the Missouri State Guard and, later, as a commander in the Confederate army, Thompson conducted raids and participated in battles. His exploits won him the nickname "Swamp Fox" of Missouri. He was a prisoner of war in 1863 and 1864. After the Civil War, he pledged allegiance to the Union and was hired by Albert L. Lee to work on swamp reclamation as Surveyor General and Chief State Engineer of Louisiana, where he contracted tuberculosis. He is buried in St. Joseph.

Thompson also engaged in a variety of creative activities, including writing poetry, crafting a cipher, and inventing this instrument. This example of his invention is the patent model he submitted with his application, which was awarded Patent No. 21,784 on October 12, 1858. The device consists of a metal quadrant of a circle on a movable arm. The edge of the quadrant bears equidistant, unlabeled divisions which are approximately 1/4" apart. These marks permit the instrument to be classified as a protractor. On the interior of the quadrant are engraved lines intended to permit the user to lay out regular polygons without first inscribing the polygons in a circle. The instrument bears settings for polygons of 3, 4, 5, 6, 8, 10, 12, 14, and 16 sides. The movable arm is engraved: Mitre Guage [sic].

The movable arm fits between a handle made from two pieces of wood and two pieces of metal that are fastened together. One side of the handle is engraved with a table for the sides of regular polygons per foot of the interior diameter of a circle. An equilateral triangle circumscribed around a circle is depicted. The object is signed: M. Jeff. Thompson (/) St. Joseph Mo. The other side of the handle is engraved with a table for the sides of regular polygons per foot of the exterior diameter of a circle. An equilateral triangle inscribed in a circle is depicted. The markings have oxidized and turned green, particularly on the table values. The patent model tag has been lost.

References: Barbara Suit Janssen, Patent Models Index: Guide to the Collections of the National Museum of American History, vol. 1 (Washington, DC: Smithsonian Institution Scholarly Press, 2010), 23; Report of the Commissioner of Patents for the Year 1858: Arts and Manufactures, vol. 2 (Washington, DC: 1859), 104; M. Jeff Thompson Papers, 1848–1959, Louisiana Research Collection Manuscripts Collection 72, Tulane University Special Collections, New Orleans, http://specialcollections.tulane.edu/archon/?p=collections/findingaid&id=32&q=&rootcontentid=111913; Meriwether Jeff Thompson Papers, 1860–1940, 01566, Southern Historical Collection, Wilson Special Collections Library, University of North Carolina, Chapel Hill, http://www.lib.unc.edu/mss/inv/t/Thompson,Meriwether_Jeff.html; Missouri History Museum, "Meriwether Jeff Thompson," The Civil War in Missouri, http://www.civilwarmo.org/educators/resources/info-sheets/meriwether-jeff-thompson; Doris Land Mueller, M. Jeff Thompson: Missouri's Swamp Fox of the Confederacy (Columbia: University of Missouri, 2007); Cathy Barton, Dave Para, and Bob Dyer, "The Swamp Fox," Civil War Music of the Western Border, http://www.bartonpara.com/civilwar/rebel/swamp.htm.

Location

Currently not on view

date made

1858

Associated Date

1858-10-12

maker

Thompson, Meriwether J.

ID Number

MA*315262

accession number

219305

catalog number

315262

Data Source

National Museum of American History, Kenneth E. Behring Center