Protractors - School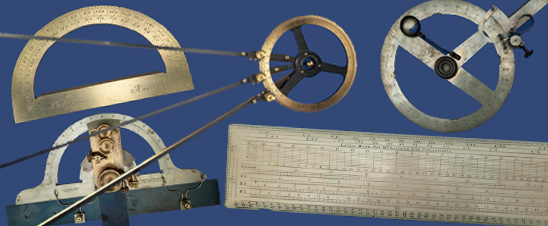 Although protractors began to appear in practical geometry textbooks in the 18th century, it was not until the turn of the 20th century that they were used systematically in mathematics teaching in American schools. Some protractors were small and inexpensive, intended for purchase and use by individual students. These might be made from new materials, such as plastic. Other protractors for educational use were oversized, designed for teachers to provide demonstrations of concepts at the blackboard. Two protractors in the collection were manufactured in Japan and displayed at the 1876 World's Fair to help demonstrate the modernization of education in that nation.
"Protractors - School " showing 2 items.
Description

This clear plastic semicircular protractor arrived at the Smithsonian in a clear plastic wrapper, which is stored with it. Designed for use by schoolchildren, it contains four sets of divisions, three to single degrees and the innermost one to ten degrees.

The outer two divisions are marked by tens for reading left-opening angles, from 0° to 180°. The inner two divisions are marked by tens for reading right-opening angles, from 170° to 0°. A semicircular slot separates the two scales.

The interior of the protractor is open. A scale along the bottom edge of the opening is divided to millimeters and marked by centimeter from 0 to 10. The outer bottom edge of the protractor is divided to sixteenths of an inch and is marked by inches from 1 to 6. The corners are slightly rounded.

The object bears several marks along its diameter edge: PAT. [/] PENDING; SAFE-T TM [/] PRORUCTS [sic] Inc.; Angles Opening Left (>) [/] Use Upper Scale; VIEW-THRU TM [/] SAFE-T PLASTIC TM [/] #45780; Angles Opening Right (<) [/] Use Lower Scale; La Grange, IL [/] 60525-0692.

Reference: SAFE-T Products, Inc., Innovative Safe Drawing and Measuring Instruments, about 1998. According to this catalog, these protractors sold individually for 75 cents. In 2006, the company became a subsidiary of A. Daigger & Company and its name changed to Classroom Products Warehouse.

Location

Currently not on view

date made

1998

maker

Safe-T Products, Inc.

ID Number

1998.0033.02

catalog number

1998.0033.02

accession number

1998.0033

Data Source

National Museum of American History, Kenneth E. Behring Center

Description

This oversized white plastic semicircular protractor may be used at a chalkboard or whiteboard. A smaller semicircle is cut out of the protractor's interior. Three curved grooves form a third semicircle between these two semicircles. The protractor is divided by single degrees and in three rows of divisions. It is marked by tens from 0° to 180° (left to right) and from 180° to 0° (right to left).

An oversized ruler, or scale of equal parts, divided to mm and marked by single cm from 1 to 10, is on the diameter of the innermost semicircle. A notch for the origin point of the protractor is at the center of this edge. Another scale of equal parts, divided by 16ths of an inch and marked by ones from 1 to 6, is along the outer lower edge.

The protractor is marked: Angles Opening Left (>) Use Upper Scale; Angles Opening Right (<) Use Lower Scale (/) SAFE-T PROTRACTOR® #45779. A recycling logo for plastic type 6 appears in the lower right corner. The protractor retailed for approximately $13 in 2011.

See also ID numbers 1998.0033.02 and 1999.0117.02.

Location

Currently not on view

date made

ca 2000

Associated Date

2000

maker

Safe-T Products, Inc.

ID Number

2000.0160.03

accession number

2000.0160

catalog number

2000.0160.03

Data Source

National Museum of American History, Kenneth E. Behring Center