---
Slide Rules
Index by Makers & Retailers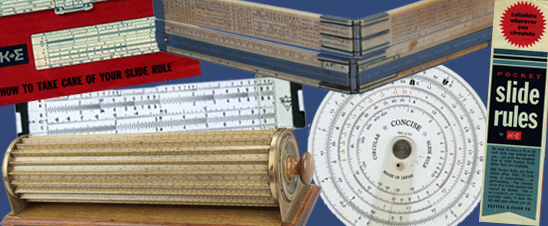 Hundreds of companies around the world were involved in the production of slide rules from the 18th to the 20th centuries. Click on one of the names below to see the objects in this collection that were associated with that firm.
Acu-Rule
Felsenthal
Makeba
Adams, Bertram E.
Fowler & Co.
Multi Slide Instrument Corp.
Albree, G. Norman
Fuller
M. W. Kellogg Company
Alco
Georgia Iron Works
Negus, T. S. & J. D.
Alteneder & Sons, Theo.
Gilson
Neil A. Maclean Company
Aston, Thomas
Graphic Calculator Co.
Nestler
Bastian Brothers
Grindsted Products
Novotni
Bradburn & Son
Guedon
Ole Jorgensens Creative Workshop
Carbic Limited
Gurley, W. & L. E.
Ontario, Province of
Central Scientific Company
Hawthorn, Robert
Perrygraf
Charpentier
Hemmi
Pickett
Charvoz-Roos
IBM
Post
Commonwealth Plastics Corp.
Impact
Psychological Corporation
Computer Manufacturing Co.
Jeppesen & Co.
Remington Rand
Concise
John Howard Herrick Co.
Richardson, George
Controller
Jones, Solomon A.
Ricoh
Cooke, Laban
Kegelman Brothers
Scofield, E. M.
C-Thru
Keuffel & Esser
Scott, Walter T.
Daemen-Schmid, Heinrich
Kingson
Stanley Rule & Level Co.
Darling, Brown & Sharpe
Knox, Inc.
Stanley, W. F.
Datalizer
K2 Publishing Corp.
Sterling Plastics
Dennert & Pape
Lawrence Engineering Service
Tavernier-Gravet
Dietzgen, Eugene
Lewis & Briggs
Thomas, Frank J.
DIWA
Lovelace Foundation
Unique
ECOBRA
L. Lumley & Co.
Whitehead & Hoag

EDMUND Scientific Co.
Macbeth Daylighting
Wichmann Brothers

Faber, A.W.
Patent Models
"Slide Rules - Index by Makers & Retailers" showing 1 items.
Description

This small, one-sided slide rule is made of wood. It has a white plastic layer on the front of both the base and the slide. The indicator is made from plastic. The base bears A, D, and K scales. The slide bears B, CI, and C scales. The scales are approximately 4-1/8 inches long. The slide is slightly longer than the base. The back of the slide rule is bare boxwood and has no scales.

The instrument is marked on the slide: MADE IN (/) ENGLAND. It closely resembles the 4-inch Jiffy slide rule made by Unique Slide Rule Company of Brighton, England. Unique sold slide rules from about 1923 to 1975.

References: Peter M. Hopp, Slide Rules: Their History, Models, and Makers (Mendham, N.J.: Astragal Press, 1999), 229–231; "British Slide Rules," The Slide Rule Museum, http://sliderulemuseum.com/British.htm; David M. Riches, Mathematical Instruments: A Private Collection, http://www.mathsinstruments.me.uk/page14.html; Peter Hopp, Colin Barnes, and John Knott, "Unique Slide Rules," Journal of the Oughtred Society 6, no. 1 (1997): 32–44.

Location

Currently not on view

ID Number

1995.0087.02

accession number

1995.0087

catalog number

1995.0087.02

Data Source

National Museum of American History, Kenneth E. Behring Center
---