---
Tabulating Equipment
The Bureau of the Census to Remington Rand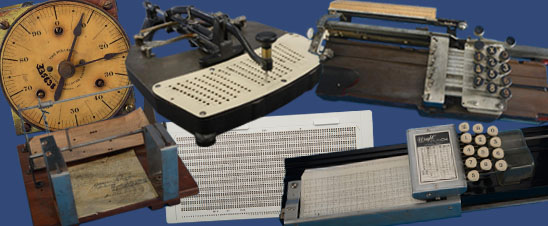 In 1902 the Census Office became a permanent U.S. government agency, the Bureau of the Census. Simon N. D. North, the Director of the Bureau from 1903, believed that renting tabulating machines from Hollerith's Tabulating Machine Company was too expensive. North established a machine shop staffed by engineers and mechanics to develop alternate systems. These machines were used in the census of population in 1910, 1920, and 1930. Tabulating equipment from the later period survives at NMAH.
James Powers, one of the first inventors hired by North, left to establish his own business in 1911. Although no machines of the Powers Accounting Machine Company survive in the Smithsonian collections, parts from them are represented. The company went bankrupt in 1920, but development of mechanical card punch equipment along the lines Powers envisioned continued. Remington Rand acquired Powers when it formed in 1927, and made punched card accounting machines into the 1950s. These were used not only in business and government but by organizations such as labor unions.
"Tabulating Equipment - The Bureau of the Census to Remington Rand" showing 3 items.
Description

From 1890 through 1950, information collected in the decennial United States census of population was punched onto cards and compiled using tabulating machines. At first the Bureau of the Census rented machines on the design of Herman Hollerith. Concerned by the high rental charges, it decided to develop tabulating equipment in its own shop.This tabulating machine was first used in the 1920 Census and then, after modification, in the 1930 Census.

The device accommodates 24-column cards. It has 60 four-position electromagnetic friction-driven counters with printing wheels and 50 electromagnetic relays, each with three contacts. The reading head contains individual wire brushes and contacts for each hole to be read. When a brush passes through a hole in a card, it encounters a contact and in turn activates the relays and counters.

References:

Accession File.

L. E. Truesdell, The Development of Punch Card Tabulation in the Bureau of the Census 1890–1940, Washington: U.S. Department of Commerce, 1965.

Location

Currently not on view

date made

1920

maker

U. S. Census Bureau

ID Number

MA*316863

accession number

229657

catalog number

316863

Data Source

National Museum of American History, Kenneth E. Behring Center

Description

From 1890 through 1950, information collected in the decennial U.S. census of population was punched onto cards and compiled using tabulating machines. At first, the Bureau of the Census rented machines on the design of Herman Hollerith. Concerned by the high rental charges, the Bureau decided to develop tabulating equipment in its own shop. This horizontal card sorter is one result of that effort.

The iron and steel instrument is designed for the mechanical, single-column sorting of 24-column cards. Cards are fed from the left.The device mechanically senses any one column at a time and sends cards to one of 12 pockets or, if no punch exists, into the thirteenth or reject pocket. A wooden shelf is at the front of the pockets and another one on the left side of the machine. A motor drives the sorter.

As presently stored, one crate contains the sorter, and the second contains a metal piece painted black that has 12 pockets that apparently fits below.

According to Museum records, the machine was first used in the processing of Vital Statistics in 1927 and then in the 1930 Census of Population. It was reconstructed in 1959.

References:

Accession File.

L. E. Truesdell, The Development of Punch Card Tabulation in the Bureau of the Census 1890–1940, Washington: U. S. Department of Commerce, 1965.

Location

Currently not on view

date made

1927

maker

U. S. Census Bureau

ID Number

MA*316862

accession number

229657

catalog number

316862

Data Source

National Museum of American History, Kenneth E. Behring Center

Description

The wooden base of this model holds a metal container with a paper punch card that fits in it. A metal piece swings from a crosspiece above the card. The base also holds supports for another metal crosspiece. Three metal pieces rotate with this crosspiece. The base also holds two larger, facing metal rectangles. One rectangle has a plastic piece screwed to the top.

A mark on the right side of the punch card reads: POWERS ACCOUNTING MACHINE COMPANY (/) ACCOUNTS PAYABLE. A mark on the left side of the punch card reads: P1384. The punched holes are round.

A piece of paper pasted to the top of the base reads: This model represents my new (/) invention of a tabulator in connec- (/) tion with perforated cards, elimina- (/) ting a pin box of 540 pins and sub- (/) stitution forty-five levers instead. (/) Also eliminating connection box, with (/) both of these improvements the speed (/) will be doubled and such machine will (/) be small in size, cheaper to build, (/) more flexible and easier to manipulate. (/) August 19, 1924 (/) James Powers. Also signing the document were Fred J. Dole, Charles E. Whiteman and Achilles Rovegno, all of whom had associations with Francis H. Richards of New York, Powers's patent attorney.

No patent corresponding to this invention has been found.

Location

Currently not on view

date made

1924

maker

James Powers

ID Number

1991.0871.03

accession number

1991.0871

catalog number

1991.0871.03

Data Source

National Museum of American History, Kenneth E. Behring Center
---