---
Tabulating Equipment
Other Tabulating Equipment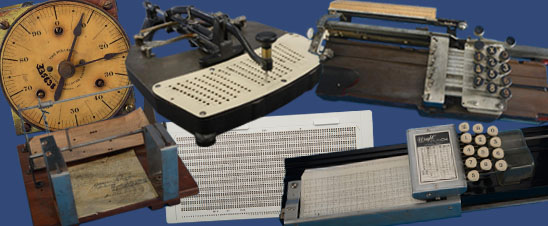 Beginning in 1895 insurance executive John K. Gore developed punched card methods for compiling statistics relating to insurance. His sorters were successfully used by his employer, the Prudential Insurance Company, but never sold generally. From 1906 the mechanical engineer John Royden Peirce designed a variety of machines for sorting and tabulating data entered on punched cards. He obtained a few customers, but had difficulty meeting his contracts. Peirce's company failed, but in 1922 his patents were purchased by IBM and he joined that company.
The success of punched card equipment, particularly that of IBM, and the high cost of electronic computers in the 1950s and 1960s encouraged some firms to manufacture competing products. Those of Universal Business Machines and Wright Line closely followed IBM models. The Termatrex system, introduced in the late 1960s to sort data for relatively small projects, had a much lower price.
"Tabulating Equipment - Other Tabulating Equipment" showing 2 items.
No Image Available

Description

By the mid-20th century, a few firms challenged the dominance of IBM and Remington Rand Univac in the tabulating machine business. One of these was Universal Business Machines, Inc., of Columbia, S.C.This is a card sorter designed and sold by that company.

The horizontal sorter has a keyboard that fits onto the left front with a set of three rows of letter keys and a number pad to the right of these. The cards apparently are fed from the left and sorted into 27 open compartments, 14 in an upper row and 13 in a lower row. These compartments are covered with metal flaps. The first row has compartments labeled A*0, B*1, C*2, D*3, E*4, F*5, G*6, H*7, I*8, J*8, K, L, M, and REJ. The second row has bins labeled N, O, P, Q, R, S, T, U, V, W, X, Y, and Z. Metal panels at the front of each row of bins can be lowered to remove cards.

A mark on the left front of the sorter reads: MANUFACTURED BY (/) UNIVERSAL BUSINESS MACHINES, INC. (/) COLUMBIA, SOUTH CAROLINA. Another mark there reads: SERIAL NO 5531 (/) MODEL NO V1526. A mark on the right front reads: UNIVERSAL SORTER. A mark on the left side reads: TREASURY DEPARTMENT (/) US INTERNAL REVENUE SERVICE. Marks in chalk on the back read: KEEP and: NO SCRAP.

Location

Currently not on view

date made

ca 1960

maker

Universal Business Machines

ID Number

MA*336182

accession number

1977.0191

catalog number

336182

Data Source

National Museum of American History, Kenneth E. Behring Center

Description

This portable key punch for preparing punched cards was manufactured by the Massachusetts firm of Wright Line. Punched cards were central to large-scale data processing in the United States from the introduction of the Hollerith tabulating machine in the 1890s through the 1970s. Tabulating machine manufacturers such as IBM and Remington Rand (later Sperry Univac) rented card punches. Wright Line, founded in 1934, was one of relatively few independent data processing accessory manufacturers. It made and sold a large variety of files, magnetic tapes, card punches, and related machines.

The device is designed for 80-column punch cards such as those made for IBM computers. It has a metal base painted black with 12 number keys and an "S" key. These keys, with their white key tops, are attached to a moveable carriage. A single punch card fits in the carriage. A mark on the top reads: Wright (/) PUNCH (/) MODEL 2600.

This punch came to the Smithsonian from the United States Naval Observatory, a longtime user of tabulating equipment for scientific purposes.

References:

Accession file.

"E. Stanley Wright, Manufacturer, 66," New York Times, September 8, 1959, p. 35.

Wright Line, Data Processing Accessories Catalog '69, p. 38.

Location

Currently not on view

date made

ca 1970

maker

Wright Line

ID Number

2005.0174.01

accession number

2005.0174

catalog number

2005.0174.01

Data Source

National Museum of American History, Kenneth E. Behring Center
---