---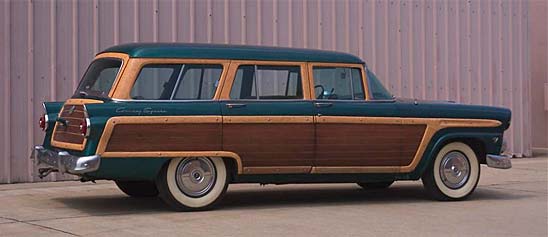 Americans have always been a people on the move—on rails, roads, and waterways (for travel through the air, visit the National Air and Space Museum). In the transportation collections, railroad objects range from tools, tracks, and many train models to the massive 1401, a 280-ton locomotive built in 1926. Road vehicles include coaches, buggies, wagons, trucks, motorcycles, bicycles, and automobiles—from the days before the Model T to modern race cars. The accessories of travel are part of the collections, too, from streetlights, gas pumps, and traffic signals to goggles and overcoats.
In the maritime collections, more than 7,000 design plans and scores of ship models show the evolution of sailing ships and other vessels. Other items range from scrimshaw, photographs, and marine paintings to life jackets from the Titanic.
"Transportation - Overview" showing 1 items.
Description

In 1840, Canadian Samuel Cunard inaugurated regular transatlantic steamship service from Liverpool, England to North America. Within a few years, he had two competitors, one of whom was American Edward Knight Collins (1802-1878), owner of the Dramatic Line of Atlantic sailing packets.

Collins had been lobbying the U.S. government for nearly a decade for the subsidy of an American overseas steamship mail service, and in 1847 Congress authorized an annual transatlantic mail contract for $385,000. Won by Collins, the contract called for five steamships and bimonthly mail service from New York to Liverpool.

Collins founded the New York and Liverpool United States Mail Steamship Company (known as the Collins Line) and commissioned the four sister steamships Atlantic, Pacific, Arctic and Baltic. When service started in 1850, the Collins ships were the fastest, largest, and most magnificently appointed steamships in the world, with stained glass skylights, steam heat in the public rooms and 3,500-bottle wine cellars.

This painting shows the arrival of the Collins liner Atlantic in May 1850 after her maiden voyage from New York to Liverpool. Measuring 282 feet long and 2,856 tons, the Atlantic set a speed record on this passage, while consuming 87 tons of coal per day. Although the Collins line ceased operations in February 1858, the Atlantic was acquired by the U.S. Government for Civil War service. After the war it was operated by other owners until scrapped in 1871.

date made

1800s

US Congress awarded an annual transatlantic mail contract to Collins

1847

Collins Line service started

1850

Collins Line service ended

1858

Atlantic acquired by the government for Civil War service

1858

Atlantic scrapped

1871

Collins steamship line

New York and Liverpool United States Mail Steamship Company

ship owner

Collins, Edward Knight

ship owner and Knight's competitor

Cunard, Samuel

built SS Atlantic

Dramatic Line of Atlantic Sailing Packets

maker

Louis Honore Frederick Gamain

ID Number

TR*336491

accession number

1978.0362

catalog number

336491

Data Source

National Museum of American History, Kenneth E. Behring Center
---