---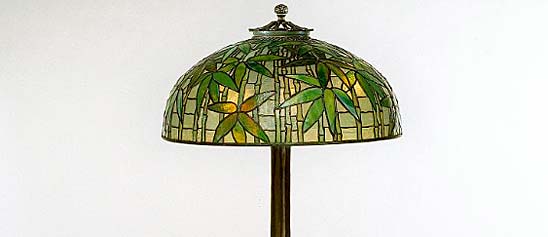 Washboards, armchairs, lamps, and pots and pans may not seem to be museum pieces. But they are invaluable evidence of how most people lived day to day, last week or three centuries ago. The Museum's collections of domestic furnishings comprise more than 40,000 artifacts from American households. Large and small, they include four houses, roughly 800 pieces of furniture, fireplace equipment, spinning wheels, ceramics and glass, family portraits, and much more.

The Arthur and Edna Greenwood Collection contains more than 2,000 objects from New England households from colonial times to mid-1800s. From kitchens of the past, the collections hold some 3,300 artifacts, ranging from refrigerators to spatulas. The lighting devices alone number roughly 3,000 lamps, candleholders, and lanterns.
"Domestic Furnishings - Overview" showing 3 items.
Description

The production and exchange of ceramics, metalwork, textiles, and other crafts were part of the economies of the Southwest and Mesoamerica centuries before the arrival of Africans, Spaniards, and other Europeans in the Americas. While central Mexico was almost immediately connected to the global economy after the Spanish conquest in the early 1520s, New Mexico and other frontier areas remained isolated and relatively self-sufficient until the mid-1800s. Once New Mexico was incorporated into the United States however, wagon trains and then railroads brought in new English-speaking residents and tourists, unsettling the economies of the established Hispano and Pueblo communities. By the early 20th century, a new livelihood emerged for local artisans—the creation of crafts for the tourist market. The tourist market demanded products that were as much about stereotypes as they were about authenticity. This Spanish Colonial Revival chair was made by Hipólito Sisneros in 1945 while he was a student at the Taos Vocational Educational School. Using a decorative technique called chip-carving, Sisneros crafted this chair in the style of New Mexican furniture from the early 1800s. After the 1930s, many Hispanics and Native Americans were enrolled in craft schools like this in an attempt by the state of New Mexico to support local craft cooperatives that targeted Anglo-American consumers.

Description (Spanish)

La producción e intercambio de artesanías, como cerámicas y textiles, formaba parte de las economías del sudoeste y de Mesoamérica siglos antes del arribo de los africanos, españoles y otros europeos a América. Mientras que México central se conectó casi de inmediato con la economía global luego de la conquista española, a principios de la década de 1520, áreas fronterizas como Nuevo México permanecieron aisladas y relativamente autosuficientes hasta mediados del siglo XIX. Sin embargo, una vez que Nuevo México se incorporó a los Estados Unidos, fueron llegando nuevos residentes de habla inglesa y turistas, primero en vagones y luego en ferrocarriles, perturbando las economías de las comunidades hispanas y pueblo ya establecidas. A principios del siglo XX ya había surgido una nueva forma de sustento para los artesanos locales—la creación de artesanías para el mercado turístico. El turismo demandaba productos que respondieran a los estereotipos sin dejar de ser auténticos. Esta silla en el estilo colonial español es obra de Hipólito Sisneros, quien la fabricó en 1945 mientras estudiaba en la Escuela Vocacional Educativa. Utilizando una técnica decorativa denominada piqueteado (tallado a cuchilla), Sisneros creó esta silla al estilo de los muebles de Nuevo México de principios del siglo XIX. Luego de la década de 1930 muchos hispanos como Cisneros, y también nativoamericanos, pudieron inscribirse en escuelas de artesanías como esta, en un esfuerzo del estado de Nuevo México por respaldar a las cooperativas de artesanías locales dirigidas a los consumidores angloamericanos.

Location

Currently not on view

date made

1945-1946

originator

Taos Municipal School

maker

Sisneros, H.

ID Number

1991.0712.01

accession number

1991.0712

catalog number

1991.0712.01

Data Source

National Museum of American History, Kenneth E. Behring Center

Description

This lithograph illustrates the chaos and conflict engulfing northern Mexico during the years of the Mexican-American War from 1846-1848. In these years the United States organized an Army of Occupation, initially led by General Zachary Taylor, to capture cities like Monterrey in preparation for a later assault on the Mexican heartland. The figure on horseback is a Mexican guerilla fighter. These skilled horsemen, often doubling as both patriots and bandits, had an established role in Mexican military tradition, and were actively recruited to combat the U.S. invaders. To understand his limited appeal to the Mexican public, note that the dead figures over whom the guerrillero is triumphantly galloping appear to be Mexican citizens, not invading American soldiers.

The lithographer is unknown.

Description (Spanish)

Esta litografía ilustra el caos y el conflicto que abrumaron al norte de México durante los años de la guerra mexicoamericana entre 1846 y 1848. En este período Estados Unidos organizó un Ejército de Ocupación, inicialmente comandado por el General Zachary Taylor, a fin de capturar ciudades como Monterrey, en preparación para la posterior ofensa al corazón de México. La figura a caballo es la de un guerrillero mexicano. Estos hábiles jinetes, que a menudo actuaban tanto de patriotas como de bandidos, tenían una función establecida dentro de la tradición militar mexicana y se los reclutaba activamente para combatir a los invasores estadounidenses. A fin de comprender el poco atractivo que estas figuras despertaban entre el público mexicano, obsérvese que los muertos sobre los que galopa triunfante el guerrillero parecen ser ciudadanos mexicanos y no soldados americanos invasores.

Location

Currently not on view

Date made

ca 1848

maker

unknown

ID Number

DL*60.2559

catalog number

60.2559

accession number

228146

Data Source

National Museum of American History, Kenneth E. Behring Center

Description

This print depicts American forces attacking the fortress palace of Chapultepec on Sept. 13th, 1847. General Winfield Scott, in the lower left on a white horse, led the southern division of the U.S. Army that successfully captured Mexico City during the Mexican American War. The outcome of American victory was the loss of Mexico's northern territories, from California to New Mexico, by the terms set in the Treaty of Guadalupe Hidalgo. It should be noted that the two countries ratified different versions of the same peace treaty, with the United States ultimately eliminating provisions for honoring the land titles of its newly absorbed Mexican citizens. Despite notable opposition to the war from Americans like Abraham Lincoln, John Quincy Adams, and Henry David Thoreau, the Mexican-American War proved hugely popular. The United States' victory boosted American patriotism and the country's belief in Manifest Destiny.

This large chromolithograph was first distributed in 1848 by Nathaniel Currier of Currier and Ives, who served as the "sole agent." The lithographers, Sarony & Major of New York (1846-1857) copied it from a painting by "Walker." Unfortunately, the current location of original painting is unknown, however, when the print was made the original painting was owned by a Captain B. S. Roberts of the Mounted Rifles. The original artist has previously been attributed to William Aiken Walker as well as to Henry A. Walke. William Aiken Walker (ca 1838-1921) of Charleston did indeed do work for Currier and Ives, though not until the 1880's and he would have only have been only 10 years old when this print was copyrighted. Henry Walke (1808/9-1896) was a naval combat artist during the Mexican American War who also worked with Sarony & Major and is best known for his Naval Portfolio.

Most likely the original painting was done by James Walker (1819-1889) who created the "Battle of Chapultepec" 1857-1862 for the U.S. Capitol. This image differs from the painting commissioned for the U. S. Capitol by depicting the troops in regimented battle lines with General Scott in a more prominent position in the foreground. James Walker was living in Mexico City at the outbreak of the Mexican War and joined the American forces as an interpreter. He was attached to General Worth's staff and was present at the battles of Contreras, Churubusco, and Chapultepec. The original painting's owner, Captain Roberts was assigned General Winfield Scott to assist Walker with recreating the details of the battle of Chapultepec. When the painting was complete, Roberts purchased the painting. By 1848, James Walker had returned to New York and had a studio in New York City in the same neighborhood as the print's distributor Nathaniel Currier as well as the lithographer's Napoleon Sarony and Henry B. Major.

This popular lithograph was one of several published to visually document the war while engaging the imagination of the public. Created prior to photography, these prints were meant to inform the public, while generally eliminating the portrayal of the more gory details. Historians have been able to use at least some prints of the Mexican War for study and to corroborate with the traditional literary forms of documentation. As an eyewitness, Walker could claim accuracy of detail within the narrative in his painting. The battle is presented in the grand, historic, heroic style with the brutality of war not portrayed. The print depiction is quite large for a chromo of the period. In creating the chromolithographic interpretation of the painting, Sarony & Major used at least four large stones to produce the print "in colours," making the most of their use of color. They also defined each figure with precision by outlining each in black. This print was considered by expert/collector Harry T. Peters as one of the finest ever produced by Sarony & Major.

Description (Spanish)

Este grabado ilustra a las fuerzas americanas atacando la fortaleza del palacio de Chapultepec el 13 de septiembre de 1847. El General Winfield Scott, representado en la esquina inferior izquierda montando un caballo blanco, condujo la división sureña del ejército estadounidense que tomó con éxito la ciudad de México durante la guerra mexicoamericana. El resultado de la victoria americana se tradujo en la pérdida para México de los territorios al norte del país, desde California hasta Nuevo México. Estos términos quedaron establecidos en el tratado de Guadalupe Hidalgo. Debe observarse que las dos naciones ratificaron diferentes versiones del mismo tratado de paz, con los Estados Unidos eliminando en última instancia cláusulas que reconocían títulos territoriales a los ciudadanos mexicanos recientemente asimilados. A pesar de la notable oposición de los americanos a la guerra, como Abraham Lincoln, John Quincy Adams y Henry David Thoreau, la Guerra Mexicoamericana evidenció ser considerablemente popular. La victoria de los Estados Unidos reforzó el patriotismo americano y la fe del país en el Destino Manifiesto.

Location

Currently not on view

Date made

1848

associated date

1847-09-13

distributor

Currier, Nathaniel

depicted

Scott, Winfield

lithographer

Sarony & Major

artist

Walker, James

ID Number

DL*60.2602

catalog number

60.2602

accession number

228146

Data Source

National Museum of American History, Kenneth E. Behring Center
---