---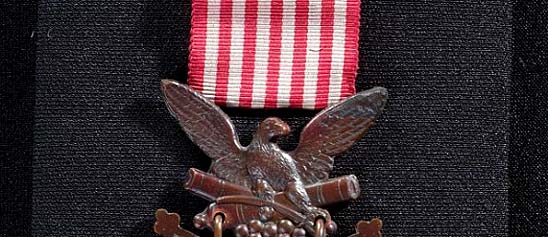 The Museum's superb military collections document the history of the men and women of the armed forces of the United States. The collections include ordnance, firearms, and swords; uniforms and insignia; national and military flags and banners; and many other objects.

The strength of the collections lies in their enormous depth. Some 3,000 military small arms and 2,400 civilian firearms document the mechanical and technological history of the infantryman's weapons from the beginning of the gunpowder era to the present. Among the 4,000 swords and knives in the collection are many spectacular presentation pieces. The collections also include Civil War era telegraph equipment, home front artifacts from both world wars, early computers such as ENIAC, Whirlwind, and Sage, and materials carried at antiwar demonstrations.
"Military - Overview" showing 3 items.
Description

Shave Head, or O-uk-ste-uh (Cheyenne),

drawn between 1875 and 1878 at Fort Marion, Florida

"In Pursuit of Game"

Collected by Richard Henry Pratt about 1878

Pencil, colored pencil, ink and colored ink

This drawing shows two Cheyenne warriors hiding and hunting in a wooded area. Buffalo, elk, a turkey, and a flying bird are present. One of the warriors points his rifle towards the elk and buffalo. The other warrior aims his arrow at the flying bird.

Location

Currently not on view

date made

ca 1875-1878

original artist

Shave Head

ID Number

2008.0175.55

accession number

2008.0175

catalog number

2008.0175.055

Data Source

National Museum of American History, Kenneth E. Behring Center

Description

Shave Head, or O-uk-ste-uh (Cheyenne),

drawn between 1875 and 1878 at Fort Marion, Florida

"Hunting Buffalo"

Collected by Richard Henry Pratt about 1878

Colored pencil and colored ink

Shave Head uses a two-level drawing shows a buffalo hunt with four wounded animals, and a separate hunt and the wounding of an elk. The Cheyenne warriors wear full headdress and four of the five also wear their mountain lion bow and quiver, symbolically powerful pieces of hunting gear.

Location

Currently not on view

date made

ca 1875-1878

original artist

Shave Head

ID Number

2008.0175.57

accession number

2008.0175

catalog number

2008.0175.057

Data Source

National Museum of American History, Kenneth E. Behring Center

Description

Shave Head, or O-uk-ste-uh,

drawn between 1875 and 1878 at Fort Marion, Florida

"Buffalo Chase"

Collected by Richard Henry Pratt about 1878

Pencil, colored pencil, and ink

Cheyenne warriors participate in the challenge of the buffalo chase. Four warriors, bows drawn and ready, ride close to the buffalo in order to kill the buffalo with one well directed arrow.

Location

Currently not on view

date made

ca 1875-1878

original artist

Shave Head

ID Number

2008.0175.59

accession number

2008.0175

catalog number

2008.0175.059

Data Source

National Museum of American History, Kenneth E. Behring Center
---