Music & Musical Instruments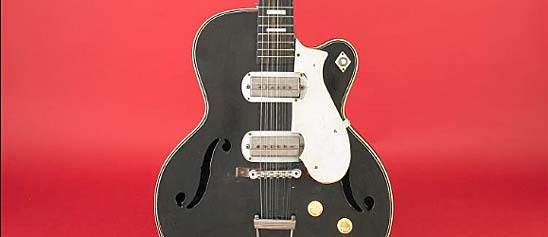 The Museum's music collections contain more than 5,000 instruments of American and European heritage. These include a quartet of 18th-century Stradivari stringed instruments, Tito Puente's autographed timbales, and the Yellow Cloud guitar that belonged to Prince, to name only a few. Several of these rare instruments can be heard in performances of the Smithsonian Chamber Players and in other public programs. Music collections also include jukeboxes and synthesizers, square-dancing outfits and sheet music, archival materials, oral histories, and recordings of performances at the Museum. The vast Sam DeVincent Collection of Illustrated Sheet Music is a remarkable window into the American past in words, music, and visual imagery. The Duke Ellington and Ruth Ellington Boatwright collections contain handwritten music compositions, sound recordings, business records, and other materials documenting the career of this renowned musician.
"Music & Musical Instruments - Overview" showing 1 items.
Description (Brief)

This violin was made by Luiz Bellini of Jackson Heights, New York in 1973. Bellini was born in Brazil in 1935. He first trained as a wood worker and later by a local violin maker. In order to advance his violin making skills, Bellini was encouraged to come to New York City in 1960. He trained with Simone Sacconi for two years and later became an American citizen.

This violin is a replica of the "Lord Wilton" violin made Guarneri del Gesu in 1742. The original "Lord Wilton" was owned and played by virtuoso violinist Yehudi Menuhin. This vioin is made of a two-piece table of spruce, one-piece back of maple, ribs of similar maple, an original maple neck, and a semi-transparent golden orange-brown varnish.

Date made

1967

date made

1973

maker

Bellini, Luiz

ID Number

2002.0330.01

accession number

2002.0330

catalog number

2002.0330.01

Data Source

National Museum of American History, Kenneth E. Behring Center