---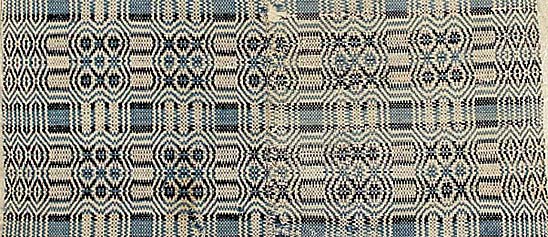 The 50,000 objects in the textile collections fall into two main categories: raw fibers, yarns, and fabrics, and machines, tools, and other textile technology. Shawls, coverlets, samplers, laces, linens, synthetics, and other fabrics are part of the first group, along with the 400 quilts in the National Quilt Collection. Some of the Museum's most popular artifacts, such as the Star-Spangled Banner and the gowns of the first ladies, have an obvious textile connection.
The machinery and tools include spinning wheels, sewing machines, thimbles, needlework tools, looms, and an invention that changed the course of American agriculture and society. A model of Eli Whitney's cotton gin, made by the inventor in the early 1800s, shows the workings of a machine that helped make cotton plantations profitable in the South and encouraged the spread of slavery.
"Textiles - Overview" showing 1 items.
Description

Loom Heddles and Harness Patent Model

Patent No. 544, issued December 29, 1837

Benjamin Hartford and William B. Tilton of Enfield, New Hampshire

Hartford and Tilton improved upon the construction of heddles (the mechanisms that raise and lower warp threads) by using strips of rolled flat metal with an eye punched through the middle of each strip to allow for the passage of warp yarns. Heddles were commonly constructed of cord. The replacement of metal for cord produced a more durable heddle. These one-piece metallic strips and the construction of the heddle frame were the basis of their patent. The heddles slid on two rods and were attached to adjustable clasps, permitting the heddles to correspond to the part of the reed (a comb-like device used to space the warp yarns evenly) that was in operation.

Location

Currently not on view

model constructed

before 1837-12-29

patent date

1837-12-29

inventor

Hartford, Benjamin

Tilton, William B.

ID Number

TE*T11409.015

patent number

544

accession number

89797

catalog number

T.11409.15

Data Source

National Museum of American History, Kenneth E. Behring Center
---