Art of Frank Gasparro: 10th United States Mint Chief Engraver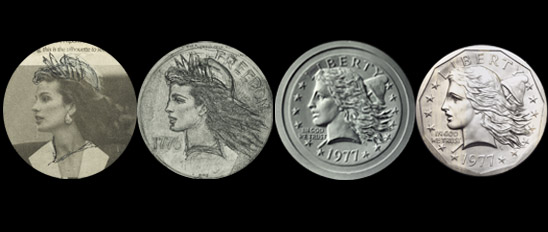 The Art of Frank Gasparro consists of 115 drawings, plaster models, photographs, newspaper clippings and ephemera collected by, and related to, Frank Gasparro, the 10th United States Mint Chief Engraver. Christina Hansen, Gasparro's daughter, donated the collection in 2009 to the National Numismatic Collection (NNC).
The Gasparro collection holds a few finished presentation drawings and cast plaster coin models. Most images are rough sketches based on one of two themes: Lady Liberty and eagles. The eagles hold branches in their beaks and are surrounded by stars. Some soar in flight and others perch on rocks. Liberty's face gazes both left and right and may wear a crown or liberty cap.
Each drawing, whether of Liberty or an eagle, changes ever so slightly. This body of work is a testament to the technological tools available to the 20th- century graphic artist. In these sketches Gasparro was not observing a live model in his studio or creating images with a computer. The designer instead used photographs from magazines and newspaper as his muse, and Xeroxes and tracing paper to make quick changes. Each time Gasparro xeroxed an image, he made a change to the drawing. A piece of tracing paper made it easy to turn the head of Liberty from facing right to left. Each drawing gives us evidence of Gasparro's progression of an idea.
By viewing Gasparro's drawings as a series, one is able to follow the evolution of the coin design from the artist's perspective. This body of work offers a visual path into the thought processes of a working 20th-century graphic artist. It did not matter that some of these "ideas" did not become coins. It is the concrete visualization of the artist's process that gives this collection its historic value.
Frank Gasparro was born August 26, 1909, on the centennial of President Lincoln's birth and by chance, the same year Victor David Brenner put Abraham Lincoln's portrait on the obverse of the penny. Fifty years later in 1959, the 150th anniversary of Abraham Lincoln's birth, Frank Gasparro placed the Lincoln Memorial (replacing the previous wheat ears design) on the reverse side of the Lincoln penny.
Douglas Martin of The New York Times quoted Christina Hansen (Gasparro's daughter) in Gasparro's obituary, "Frank Gasparro, 92, of Mint; Art Is on 100 Billion Pennies," October 3, 2001, "…he originally aspired to make sculptures like those of Rodin and Michelangelo, but came to take pride in his billions of lowly pennies. He was known to show cashiers the reverse side of a penny and announce that he had designed it."
Gasparro's Lincoln Memorial Reverse remained on the penny for 49 years. Used and collected by generations, it may be Gasparro's very long fifteen minutes of fame. Gasparro's coin designs also include the presidential coat of arms on the Kennedy half reverse; the obverse and reverse of the Eisenhower dollar; the Susan B. Anthony dollar; and multitudes of medals and commemoratives that he continued to design for the United States Mint and private mints after his retirement from federal service.
Robyn Einhorn
Collection Manager
National Numismatic Collection