California Mission Postcards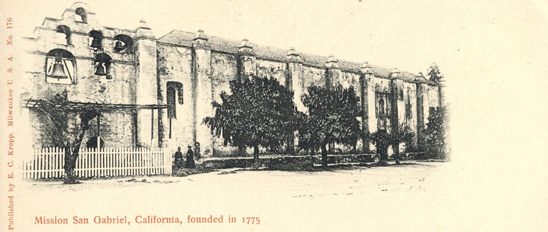 Picture postcards became popular in America as souvenirs and message sending devices in the late nineteenth century. Their minimal cost, portability, and accessibility enabled the tourist an opportunity to send greetings back home and to elicit excitement about the tourist attraction being enjoyed. Postcards also offered the tourist an opportunity to retain particular images as personal mementos of their travels. After the turn of the twentieth century federal postal regulations allowed the private production of postcards. The numerous postcard-printing and publishing businesses flourishing during this time included the Curt Teich Company, the Detroit Publishing Company, the Edward H. Mitchell Company, and the Van Ornum Colorprint Company. Examples of the work of each of those companies are included in the following group of postcards. They represent a collection of a larger variety of postcards in the Museum's Graphic Arts Collection; most were published and collected during the early 20th century.
The following group of California mission postcards includes views associated with the twenty-one missions established between 1769 and 1823 by Spanish Franciscan missionaries along the California coast from San Diego to San Francisco.
In 1769, under the direction of King Charles III of Spain, Father Junipero Serra (1713-1784) of the Spanish Franciscan order was called upon to assist the colonization of Alta California, the area including the present day state of California. Serra's directive was to establish missions to assist the Roman Catholic conversion and control of the area lands and native peoples. After Mexican independence from Spain in 1821, and by the mid-1830s, the Mexican government, then responsible for the territory, secularized and sold the missions in order to discourage their economic monopolies. The region including what is now the state of California was purchased by the United States government in 1848; California became a state in 1850. Today after neglect and earthquake damage most of the California missions have been preserved or rebuilt through the establishment of various California mission historical societies and preservation committees. The beauty of their landscapes, architecture, and historical importance, continues to inspire visitors with glimpses of a romanticized and controversial Spanish past. Many mission buildings now include both parish churches and museums and are popular tourist attractions.