Duplan "Martine" Silks

Jean Duplan was one of thousands of European textile manufacturers whose business was affected by the high import duty imposed on European-made luxury goods by the US Tariff Act of 1897. Like dozens of his colleagues, Duplan chose to open a new mill in the US, manufacturing goods similar to his French-made products, but avoiding the tariff and also utilizing new manufacturing methods and technologies. Like many silk manufacturers around the turn of the 20th century, Duplan explored the anthracite coal-mining region of Pennsylvania as a venue, opening a small mill in Hazleton in.
An image of Duplan Silk Company's three silk mills.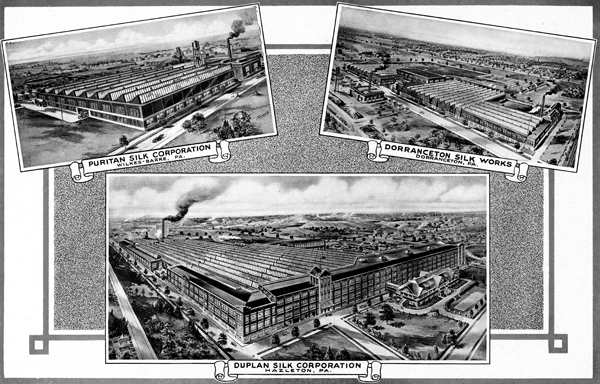 At the time, many textile manufacturers were attracted to the availability of cheap, non-unionized labor in the region, in the form of the wives and children of the coal miners. Since mine work was often irregular, families could not rely solely on the head of household's earnings. Although textile mill wages were usually low for women and children, and were certainly not enough on their own for a family to subsist on, these earnings added to a family's ability to make ends meet.
Images from House of Duplan of the weaving room and workers on May Day.

| | |
| --- | --- |
| | |
The silk mills in Pennsylvania generally specialized in churning out the thousands of yards of plain silks that were called "staples," such as taffeta or pongee or shantung. These fabrics required less skill in the weaving than patterned silks woven on box looms or jacquard looms, which were usually the products of unionized skilled labor in New Jersey, New York, Connecticut, and Massachusetts.