This pair of apothecary jars allowed a druggist to advertise both the drugs and toiletries carried by the shop. The jars are were advertised in 1898 by the Whitall Tatum Company, and sold to druggists for $8 each
The National Museum of American History's collection of cosmetics and personal care products currently includes over 2,200 objects dating largely from the mid-nineteenth century to the present. The collection represents a broad range of products intended to cleanse, soothe, heal, protect, and beautify the body: skin and hair care, soaps and cleansers, oral hygiene, feminine hygiene, shavers, make-up, and perfumes. Together these products provide an important record of American health practices, shifting cultural and beauty norms, and growth and change within the American pharmaceutical and cosmetic industries.
Browse the collections via the sections related to particular hygienic uses or cosmetic applications. Note that many products will appear in multiple sections, reflecting their multiple uses. You can also use the Keyword Search (at right), which searches all fields of information. A Gallery and Further Exploration section is included for viewers who wish to learn more, directing them to related Smithsonian collections. The Bibliography section records materials published on the subject.
This site will continue to grow as additional collections are acquired and new interpretive sections are added. Individual records will also be enhanced with further information about product history, manufacture, and use.
Acknowledgements
The digitization of this group of artifacts was made possible through the generous support of Kiehl's Since 1851.
What is the Relationship between Medicine and Beauty Products?
American druggists have traditionally carried pharmaceutical products as well as personal care, hygiene, and beauty products. Fragrant essential oils, dried herbs, and extracts were part of the pharmacist's stock from which medicines were prepared. As a result, perfumes were one of the first cosmetic products to be carried by American pharmacies. When the cosmetic industry expanded beyond perfumes to include make-up, hair dyes, razors, and deodorants, personal care products gradually joined perfumes on druggists' shelves.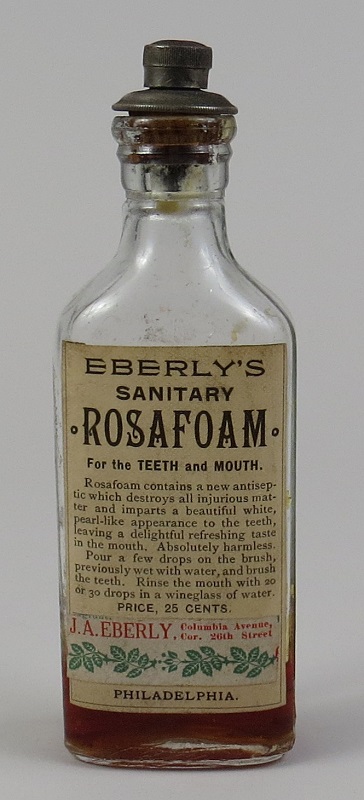 J.A. Eberly was a Philadelphia druggist, dentist, and inventor. His Rosafoam promises to "destroy all injurious matter" and give a "pearl-like appearance to the teeth"
But, this tradition of pharmacies selling beauty care products also reflects a long-standing belief that health, hygiene, and physical beauty are all connected. Many purveyors of personal care and beauty products claim that their products not only beautify our bodies, they also improve or protect our health. Today, these claims are so common that we might not even notice them: hair dye that claims to improve the health of our hair, make-up that claims to improve the health of our skin, beauty lotions that claim to "detoxify," and scented soaps, minty mouthwashes, and flowery feminine hygiene products that claim to protect us from bacteria. Beauty and personal care products that are marketed as making our bodies healthier, rather than simply making us more attractive, can make it difficult to keep a clear separation between cosmetics and medicines.
In 1938, Congress cemented the connection between cosmetics, drugs, and medicine when it passed the Food, Drug, and Cosmetics Act. This act provided the Food and Drug Administration with some oversight over the cosmetics industry. Today, Congress is considering the Personal Care Products Safety Act, which would amend and further strengthen the 1938 Act.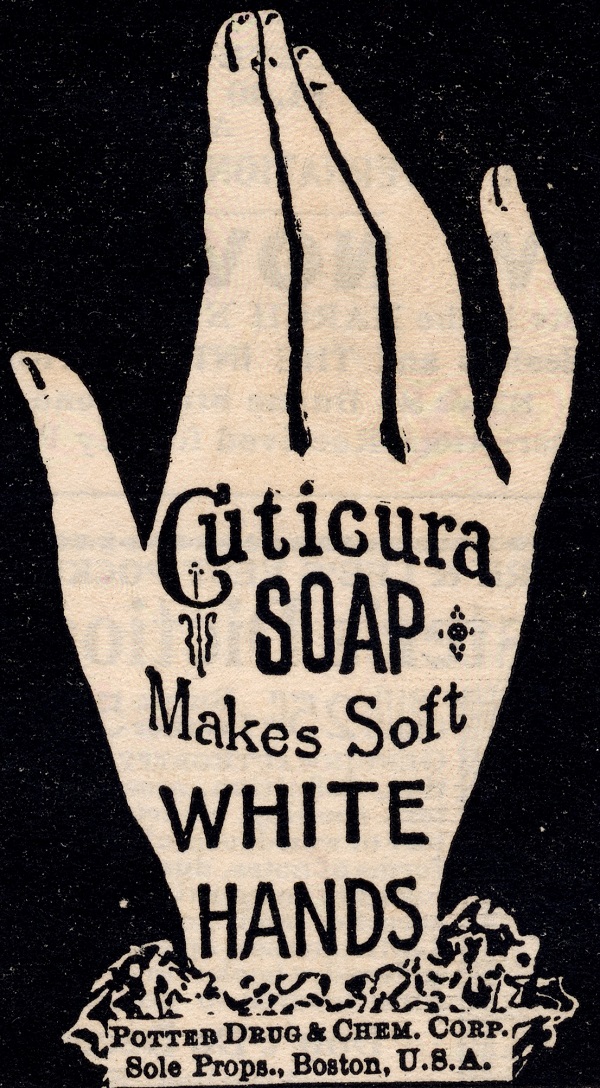 Cuticura Soap advertisement, Warshaw Collection of Business Americana, Archives Center, National Museum of American History, Smithsonian Institution
About the Collection
Although the Smithsonian began collecting pharmaceuticals and medicinal preparations in the 1880s, the vast majority of the cosmetics and personal care collection was acquired since the mid-1960s. In 1964 the Smithsonian also opened a brand new museum—the Museum of History and Technology (now the National Museum of American History)—which greatly expanded exhibition and storage space, as well as curatorial staff. At this time, museum curators began an effort to better document everyday health practices, and more broadly represent the variety of materials that Americans have employed to protect and enhance health and well-being.
The collections grew quickly from the late 1970s to early 1990s when curators acquired many products from a number of individual, family-run pharmacies, many of which were going out of business and disposing of current and outdated stock. These new collections represented the wide array of mass-marketed health products available in American drugstores, as well as some products reflecting local or regional use. Collections especially rich in cosmetic and personal care products were acquired from the G. W. Aimar Drug Company of Charleston, South Carolina; David's Pharmacy of Philadelphia, Pennsylvania; Fournet Drugstore of Saint Martinville, Louisiana; Glaser Pharmacy of Sayre, Pennsylvania; Tupper Pharmacy of Summerville, South Carolina; Reid Pharmacy of Clifton, Illinois; Oaklawn Pharmacy of Cranston, Rhode island; Sherman Pharmacy, of Sherman, New York; and the Georgetown Pharmacy of Washington, DC. In addition to products, curators collected business records, advertising material, and shop furniture.
Other significant collections came directly from pharmaceutical companies or manufacturing pharmacists including the American Cyanamid Company, the Dial Corporation, Garfield and Company, Kiehl's Pharmacy, Norwich Eaton Pharmaceuticals, Procter & Gamble, and Sterling Drug. Archival collections related to business, manufacturing, and marketing often accompanied these acquisitions.
Individual collectors have been another important source for materials for this collection. Our largest acquisition of cosmetic products to date came from the collector Isadore Warshaw, who also amassed an enormous collection of advertising and business ephemera which now resides in the Museum's Archives Center. Other collectors who have contributed significantly to this collection include Gary P. and Sandra Baden, Betty S. and Joseph H. Dial, and Richard W. Pollay. Collectors' interests often reflect their chosen profession and important collections of oral hygiene products have been acquired from practicing dentists: Francis M. Blauston, D.D.S. of White Plains, New York; Roscoe C. Bratten, D.D.S. of Galion, Ohio; and Paul W. Reiser, D.D.S. of New York, New York.
Our collection database is a work in progress. We may update this record based on further research and review. Learn more about our approach to sharing our collection online.
If you would like to know how you can use content on this page, see the Smithsonian's Terms of Use. If you need to request an image for publication or other use, please visit Rights and Reproductions.