Japanese American Incarceration Era Collection -- Behind Barbed Wire
Behind Barbed Wire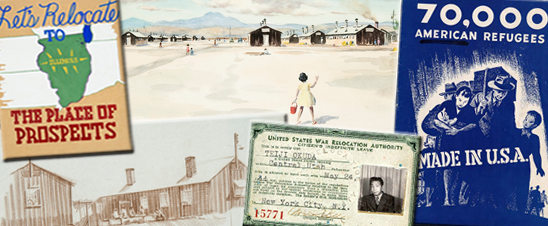 After their detainment, Japanese Americans had to endure wretched living conditions in the WCCA assembly centers. The sixteen assembly centers were typically constructed on racetracks and fairgrounds throughout Arizona, California, Oregon, and Washington State. They were small staging areas that contained hastily built living quarters for the detainees before they were sent to WRA centers.
Japanese Americans were dispersed among ten WRA centers. The incarceration centers were stationed in seven states: Tule Lake and Manzanar were in California; Minidoka was in Idaho; Heart Mountain was located in Wyoming; Topaz was posted in Utah; Poston and Gila River were in Arizona; Granada (Amache) was in Colorado; and Rohwer and Jerome were both in Arkansas.
The incarceration centers resembled Army camps but were commonly below Army standards of living. The camp buildings lacked climate control leaving detainees to deal with freezing winters and brutal summers. The barracks provided hardly any privacy and were usually partitioned with thin wooden walls or curtains. Practically every facility was communal, including the bathrooms and dining hall.
Barbed wire fences, armed guards, and surveillance towers were common features in the camps. Strict rules and organization resulted in meticulous documentation of the detainees' movements. The constant presence of authority, control, and oppression escalated feelings of depression and anxiety among those incarcerated. However, despite these emotions Japanese Americans were able to create a community within the camps and participate in the war effort.
12
Page 1 of 1
Description

Rigid structures of control were in place during the incarceration of thousands of Japanese Americans. Every movement inside the barbed wire fences of relocation centers were watched by guards, while movements outside of the camps were heavily documented and reinforced with strict time allowances.

Location

Currently not on view

date made

1943-05-02

ID Number

1986.3128.08

nonaccession number

1986.3128

catalog number

1986.3128.08

Data Source

National Museum of American History

Description

The "Rohwer Outpost" was a newspaper created by the camp internees. The paper circulated camp-specific information and activities. However, the newspaper had to watch what they printed since both the imprisoned people and the people in charge of the camp read it. The paper was printed in both English and Japanese languages.

Location

Currently not on view

date made

1943-09-15

ID Number

1986.3144.33

nonaccession number

1986.3144

catalog number

1986.3144.33

Data Source

National Museum of American History

Description

These identification cards were issued to residents of the internment camps. In order to exercise control and maintain surveillance over the population, internees were given family numbers and their physical characteristics were recorded.

Location

Currently not on view

date made

1942

ID Number

1986.3083.01

nonaccession number

1986.3083

catalog number

1986.3083.01

Data Source

National Museum of American History

Description

Immunizations were also documented at the camps. Fear of outbreaks of deadly diseases resulted in mass inoculation at assembly centers and relocation centers.

Location

Currently not on view

date made

1942

ID Number

1986.3083.02

nonaccession number

1986.3083

catalog number

1986.3083.02

Data Source

National Museum of American History

Description

This Relocation Notice documents the heavily restricted life that internees had behind barbed wire. Fresno Assembly Center was in use from May 6 to October 30, 1942, with a peak population of 5,120.

Location

Currently not on view

date made

1942-07-23

ID Number

1986.3118.04

nonaccession number

1986.3118

catalog number

1986.3118.04

Data Source

National Museum of American History

Description

W.R.A. Leave Pass, Teiji Okuda, No. 15771
Those incarcerated at the War Relocation Centers were denied many of their civil and personal liberties. The freedom to travel outside of the camps was severely restricted. However, internees could leave the camps if they were able to join the work-release program.

Location

Currently not on view

date made

1944-05-24

ID Number

1986.3158.01

nonaccession number

1986.3158

catalog number

1986.3158.01

Data Source

National Museum of American History

Description

The Wartime Civil Control Administration (WCCA) dispensed these coupon books to the residents of the Tanforan Assembly Center.

Location

Currently not on view

date made

1942

ID Number

1986.3083.04

catalog number

1986.3083.04

nonaccession number

1986.3083

Data Source

National Museum of American History

Description

Despite the harsh treatment, incarcerated Japanese Americans still participated in American society. Buying savings bonds were one way that these imprisoned individuals could show their support.

Location

Currently not on view

ID Number

1986.3083.05

nonaccession number

1986.3083

catalog number

1986.3083.05

Data Source

National Museum of American History

Description

Incarcerated Japanese Americans still helped out the war effort. For example, Ko Takemoto used this war ration book in the interment camps.

Location

Currently not on view

ID Number

1986.3083.06

nonaccession number

1986.3083

catalog number

1986.3083.06

Data Source

National Museum of American History

Description

The Rohwer High School National Honor Society created these posters to advertise a war stamp and bond drive they were hosting. Although these people were being imprisoned by the government, they still held events to support the war effort and promote their patriotism.

Location

Currently not on view

ID Number

1986.3144.36

nonaccession number

1986.3144

catalog number

1986.3144.36

Data Source

National Museum of American History

Description

For some Japanese American internees, work-release programs were an option for escaping the poor living conditions of the War Relocation Centers. Once participants passed "loyalty" and "character" investigations, individuals were able to leave the relocation centers to find work. One destination for Japanese Americans was Seabrook Farms located in New Jersey. Due to the employment constraints caused by the war, Seabrook employed internees to work in the fields harvesting vegetables.

Location

Currently not on view

date made

ca 1940
ca 1940s

ID Number

2008.0103.01

accession number

2008.0103

catalog number

2008.0103.01

Data Source

National Museum of American History