Japanese American Incarceration Era Collection -- Remaking Home Behind Barbed Wire
Remaking Home Behind Barbed Wire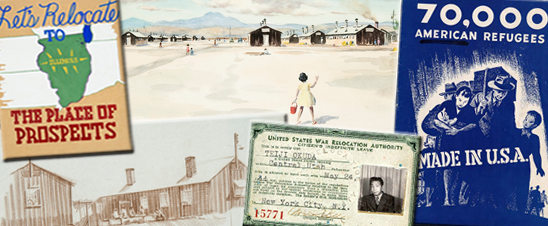 Faced with a disheartening environment, most detainees tried to remake the home they were forced to leave or at least make their barracks more familiar and comfortable. Some purchased objects and others resorted to making them.
Many incarcerated Japanese Americans worked in the relocation centers and incarceration camps fulfilling positions such as teachers, dentists, physicians, and cooks. With the money they earned from their jobs and with help from friends and associates outside of the incarceration camps, Japanese Americans were able to open and hold/maintain bank accounts. Although their income was significantly less than what they would have made if they were not incarcerated, it did allow detainees to afford more items to make their imprisonment more comfortable. Those incarcerated could purchase items from Sears Roebuck and Company catalogues that were kept at the Relocation Center post offices.
In addition to buying objects, incarcerated Japanese Americans built their own furniture, sewed their own clothes, and made home décor in hopes of fixing up their meager barracks. Several of the pieces of furniture displayed high quality workmanship and the handmade clothes often followed the fashion edicts of the day. Prisoners worked hard and made their adverse living situation as bearable as possible for their families. The objects in this section represent the resiliency, adaptability, and durability of the Japanese American detainees.