Kinematic Models -- Resources
Resources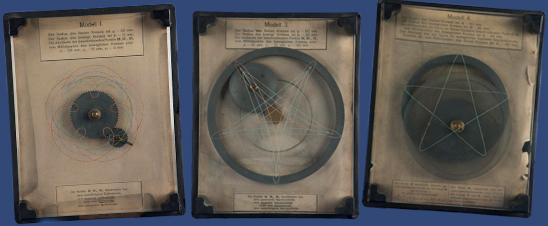 Resources
On-line demonstrations: Wolfram Mathworld, http://mathworld.wolfram.com and cut-the-knot.org, http://www.cut-the-knot.org.
Chironis, Nicholas, Gear Design and Applications, 1967, p.160.
Davis, W.O., Gears for Small Machines, 1953, p.9.
Grant, George, Teeth of Gears, 1891, p.69.
Hartenberg, Richard S., Kinematic Synthesis of Linkages, 1964, p. 185.
Kidwell, Peggy, "American Mathematics Viewed Objectively: The Case of Geometric Models", Calinger, R. Ed., MAA Notes 40, 1996, pp. 197-207.
Roberts, David Lindsay, "Linkages, A Peculiar Fascination" in Tools of American Mathematics Teaching, 1800-2000, Kidwell, P.A. et.al., Johns Hopkins University Press, 2008, pp. 233-242.
Schilling, Martin, Catalog Mathematischer Modelle für den höheren mathatischen Unterricht, Halle a.s., Germany, 1911, pp. 56-57. Also available at http://www.mathmodels.illinois.edu/cgi-bin/cview?SITEID=4&ID=342.
Snyder, Virgil, review of Catalog mathematischer Modelle für den höheren mathatischen Unterricht, Bulletin of American Mathematics, Jan 1904, pp.209-210.