Mining Lights and Hats -- Helmets
Helmets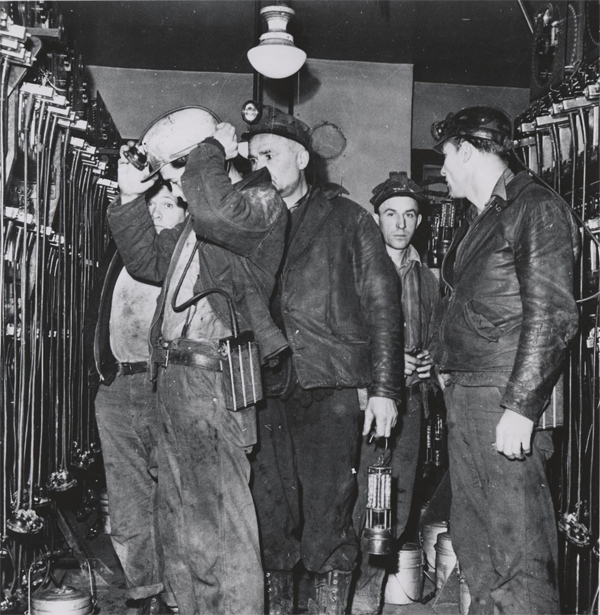 Miners wearing safety hats and Edison lamps preparing to enter mine. Harwick, PA, 1953.
Prior to the 1920s, miners wore a soft cap made of cloth or canvas with a leather brim and lamp bracket to hold their light. But in 1919, Edward D. Bullard of San Francisco, California developed the first hard hat, basing it on the Doughboy helmet he wore as a soldier in World War I. The helmet was made of canvas, glue, and black paint, and given the trademarked name "Hard Boiled" because of the steam used in the manufacturing process. Promotional materials touted the hat's strength; saying that a 20 pound weight dropped from a height of two feet did not break the cap, and a one pound bolt dropped forty feet did not dent the cap. The helmet could carry a regulation bracket for a carbide lamp, and could be ordered in any size. Edward W. Bullard continued to improve his father's safety hat, patenting several inventions in 1928 including an adjustable lining to the interior of the hat, and an insulated lamp bracket.
The Mine Safety Appliances (MSA) Company was founded in 1914 in response to the mounting danger found in mines. The company's first step was to work with Thomas Edison to develop a battery-powered lamp to avoid igniting firedamp in mines. MSA went on to produce a variety of safety devices, including breathing apparatus, gas masks, ventilation fans, and helmets. The first safety helmet that MSA manufactured was the trademarked Skullgard Bakelite helmet designed by Jack Lewis in 1930. In 1935 MSA registered their trademark for the Comfo-Cap and continues to produce the Skullgard and Como-Cap into the 21st century. Both MSA-manufactured helmets are represented in the mining collection in the Division of Work and Industry.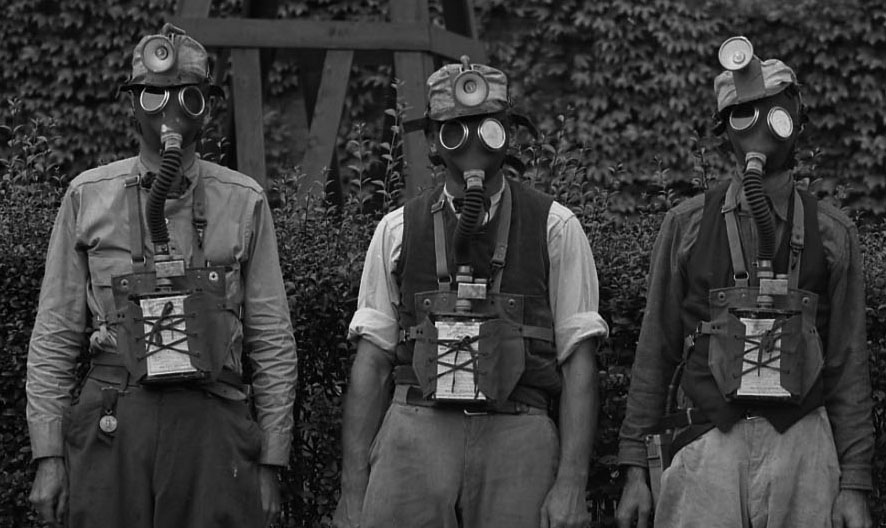 Rescue Team with Edison Cap Lamps & MSA Breathing Apparatus. Jenkins, Kentucky, 1926.
Carbide lamps were still used with hard protective helmets, but helmets that used electric lamps would have a cord holder to keep the cord out of the miner's way. A form of this helmet and electric lamp combination is still worn today, with improvements in the area of battery life and weight, a change to tungsten and LED bulbs, and breakaway or segmented cords to allow the miner to be less inhibited by the battery pack.